As a plumber, it's important to have your plumbing business needs organized—whether that means having a handy reference guide at your fingertips or a quick and easy way to allow customers to pay for services. These days, there are plenty of plumbing apps you can use to help you when you're out in the field dealing with equations, pipe sizing, and other plumbing needs that are great for organization.
Best Mobile Apps for Plumbing Contractors
Need to figure out how to join two copper pipes? There's an app for that. Need to determine the fastest route for all of your service routes that day? Yep, there's an app for that. Need to organize all of your invoices, customers, and technicians? You guessed it—there's an app for all of that.
We've rounded up some of the best, most useful mobile plumbing apps and plumbing business software you can utilize for all aspects of your plumbing business. Check them out below.
Housecall Pro
This is the number-one rated app for service professionals—and it's loaded with features that backup that number-one rating. You can think of the Housecall Pro app as your business dashboard where you can control almost every aspect of your plumbing service. Create custom invoices and estimates, schedule and dispatch technicians, and accept payments via credit cards, all in the same app.
Features:
Schedule and Dispatching: Edit your schedule from your mobile device or computer, drag-and-drop jobs to manage your work schedule, set up recurring jobs, schedule arrival windows for customers, send jobs directly to technicians, use in-app messaging with clients or employees, and attach notes and photos while out in the field.
Customer Communication: Send timely job status updates, send text and email reminders, as well as en-route notifications.
Online Booking: Allow customers to contact and book through your website or external websites like Yelp or Facebook. Never let a missed phone call mean you missed a potential customer.
Estimates and Payments: create, update, and send invoices, email estimates, invoices and receipts automatically, customize line items.
Plus way more! It's the easiest way to manage your plumbing business and helps you avoid doing hours of paperwork at the end of a long week. Housecall Pro plumbing software features an intuitive, user-friendly interface so everything about your company is streamlined from your office staff, to your work orders, to technicians in the field.
Not only do the features in this service app help you keep track of your business, but they also lead to a better customer experience because you can message clients directly through the app, follow up, and send invoices. All sides of the business transaction, from dispatch to payment, are handled quickly and without delay. Don't let miscommunication hamper your customer service rating ever again.
We're the best solution out there for your needs
You won't find a better software for the your business. At Housecall Pro, we're constantly evolving our product to offer all the features you need to make running your service business easy. You'll get great support from the Housecall Pro team, as well as 15,000+ Pros like you in our active social community.
Plumbing Formulator
Download for iOS – Free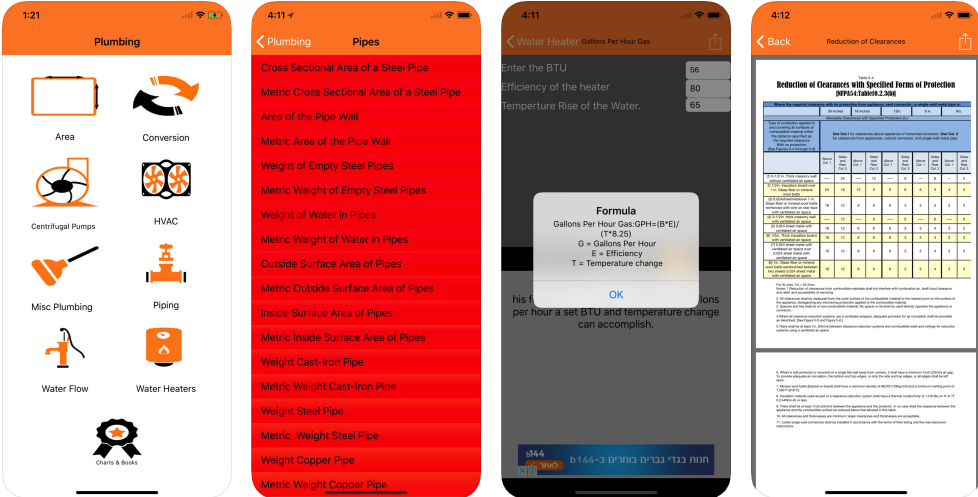 As you already know, being a plumber involves constant equations to determine the right pipe size, water flow, and other calculations. Luckily for you, Plumbing Formulator can make your life a whole lot easier. Over 120 formulas are available to use with this app, so you can be 100 percent confident that you're getting the exact measurement you need.
Each calculation in the Plumbing Formulator app can be emailed and printed for easy reference for you or your customer's records. You can easily select from your most-used and recent formulas to save time while you're out in the field. In addition, there are many plumbing charts you can use and a built-in plumbing book for reference. Here are a few calculations this plumbing app can help with…
Pump formulas:
Head feet
Pressure
Brake horsepower motor
Efficiency of pump
Brake horsepower – pump
Water horsepower
Velocity head
Pipe velocity
Piping formulas:
Area of pipe wall
Weight of cast iron pipe
Weight of steel pipe
Expansion in plastic piping
Pressure of pipe
Pipe length change due to temperature
Water flow formulas:
Optimum water flower
Volume of water flow
Velocity of water
Pipes total dimension
Supply water rate
With this plumbing software for iPads or iPhones, you'll never be stuck at a job site frantically googling equations—you have all your calculations right in the palm of your hand.
Copper Tube Handbook
Download for iOS – Free

This is the essential reference guide for any plumber working in copper piping systems. Using this handy plumbing app, you can determine technical data or information about different joining methods. It's straight from the Copper Development Association and is designed with the professional plumber in mind.
You'll never have to frantically look up copper piping information while at a job site; simply use the app to guide you toward the right answer.
Route4Me Route Planner
Download for iOS , Android – Free
Have you ever had a day with service calls that take you all around town, zig zagging back and forth to opposite locations? Not only does this waste gas, it also wastes valuable time you could have used elsewhere. Route4Me completely eliminates this frustration. Simply load all of your service stops into the app and the app immediately re-sequences the entire route in the right order so that you take the most efficient way possible to all of your house calls.
This plumbing app optimizes your route so you save time, money, and wear and tear on your vehicle. It's one of the best free apps for plumbing contractors because it simplifies a process that can be incredibly frustrating.
Have a fleet of technicians you regularly dispatch? Once all of your technicians begin using this app, you'll be able to answer more service inquiries and house calls by finding the most direct route for everyone out in the field.
BestEverFlatRate Guide
Website: http://www.flatrate.guide/
This isn't quite an app; instead it's a helpful website with specialized software that allows you to deliver options for service repairs with custom pricing flexibility.
How it works:
After a service technician comes out during a service call, he or she uses the Optionmaker within the website to look at similar scenarios and virtually build out an economical option, middle-of-the-road option, and high-end options for the repair. Each option has suggested verbiage to go along with it if the technician isn't quite sure how to express the different choices available to the customer.
Option Sheet Templates: Create templates based on your company's price points
Custom Price Builder: Create prices in the field for unexpected scenarios and system changes
Information Button: Delivers technical information such as part numbers for replacement parts
Financing Options: Include monthly or delayed payment options
Import/Export Options: Import your current flat rate options right into website
QuickBooks for Plumbers
Download for iOS , Android – Free Trial, Online Subscription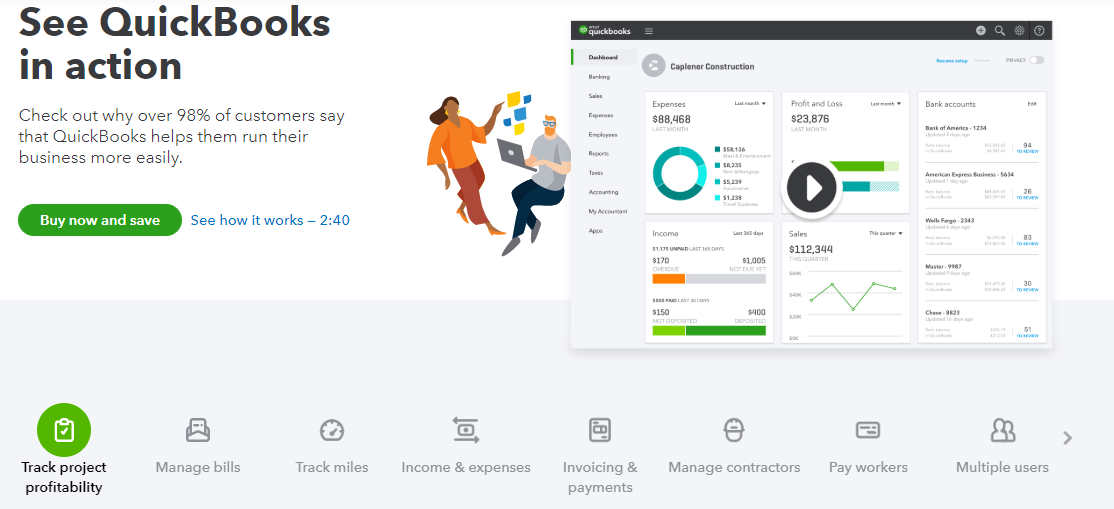 If you need help keeping the financial side of your plumbing business organized, look no further. There's a reason by QuickBooks is synonymous with accounting. Using the QuickBooks app, you can create invoices for customers, manage your cash flow and expenses, and see your total net profit.
Features:
Business Trends: See your profit and loss each month, view account balances, categorize monthly expenses
Create invoices: Track invoices so you know who owes you money and who has paid
Track Customers and Sales: Record receipts and attach them to your expenses, review bank transactions, add new customers
Online Accounting: Customize your invoices and receipts with your logo, use 80 partner apps
Housecall Pro can easily connect your home service business to your Quickbooks Online and QuickBooks Desktop. All of your service history, price list data and customer list can be synched. Learn how Housecall Pro can help your plumbing business boost revenue by 30% and start your free 14 day trial today.
QuickBooks for Self-Employed
Download for iOS , Android – Free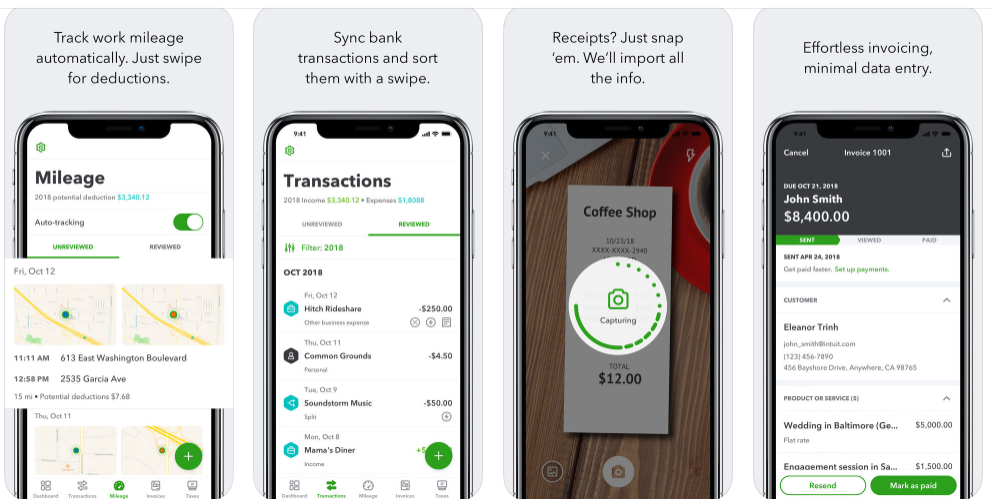 If you're an independent contractor, it's crucial you keep track of every single one of your business expenses for tax purposes. After all, you don't want to miss out on valuable tax deductions because you failed to keep your receipts organized.
Features:
Tracks Mileage: Mileage is automatically synced to your phone's GPS but without draining the battery
Business Expenses: Automatically categorized
Expense Tracker: manage finances, import business expenses straight from your bank account, sync bank transactions
Receipts: Simply take a picture and the app imports all the important financial information
Get Ready for Taxes: Don't be caught off-guard by your taxes, let the app do the math so you can export Schedule C income and expenses
Plumbing Apps to Take Your Business to the Next Level
As a plumber, you're constantly on-the-go, making house calls to repair systems, driving to customers, and checking up on your technicians. A highly mobile professional such as yourself deserves the kind of technology that can keep up with your pace. Using a variety of plumbing apps and plumbing services software, you can save yourself time, frustration, and keep your business operations running smoothly. If you're ready to take your business to the next level, try
Housecall Pro, an all-in-one app that has everything you could need—except the kitchen sink.
Do you need help with other aspects of your plumbing business? Housecall Pro offers tons of other features for service-based small businesses like a logo generator.
Create your plumbing business logo to stand out in the competitive world of plumbing and get ready to land customers, expand your market, and efficiently manage your workflow.