Streamline your billing with our easy-to-use service invoicing software
Easy invoicing software for your home service businesses. Automate tasks and integrate with your current processes to make invoicing even simpler.
35,000+ COMPANIES EMPOWERED TO SEND INVOICES
Professional invoice templates
Increase your availability and streamline your scheduling process with the help of scheduling software. Allow your technicians to receive alerts about upcoming jobs, update their availability, and mark work completed right from the job site.
Batch invoice generation​
Whether you've fallen behind on invoicing or you just prefer to send them all at once, our service invoice software's batch invoicing capabilities can help. With batch invoicing, you can select multiple invoices and generate them all at once, saving you time and effort.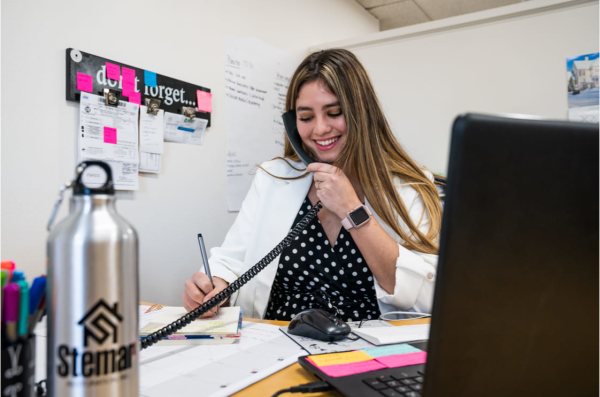 Email delivery and payment reminders​
Our service invoice software also makes it easy to send invoices right away. You can email invoices directly to your customers and send payment reminders right from your smartphone. Plus, you can search invoice history to keep track of your payments.
WHAT OUR PROS SAY ABOUT INVOICING
"We can see our invoicing and month-to-month growth numbers on the dashboard. "
Dave C.
Owner, Cass Plumbing
Tampa, FL
GET IN TOUCH:
858-842-5746
On average, Pros increase monthly revenue generated through Housecall Pro by 50% after their first year.
When completing a service, you can't always receive payment on the spot. Housecall Pro allows you to send a professional, branded invoice to your customer with custom invoice terms. Customers can pay online, and you can get the money instantly. 
Housecall Pro's invoicing solutions allow small businesses to send one-click invoices and automatic reminders to ensure they always get paid on time.
Yes, Housecall Pro automatically syncs invoices to Quickbooks Desktop or Quickbooks Online, eliminating double entry by your administrative staff.
Service invoicing software is a digital system used to manage and organize invoices for any business that provides services. It is especially beneficial for businesses in the home service, trades, or other industries where there are multiple customers and projects. This type of software streamlines the process of sending out invoices so that it can be done quickly and accurately.
With service invoicing software, billing becomes a much simpler task. The system allows you to store client information, amounts owed, payment terms and due dates, as well as any special instructions related to individual invoice items. This makes it easy to generate an accurate record of what each client owes your business on a given day or week. Plus, being able to automate this time-consuming step saves both time and money by not having staff manually create each invoice every time services are rendered.
The software also provides all sorts of helpful features such as tracking overdue payments conveniently from one place; having customizable templates so you can make your invoices look professional; integrating easily with existing accounting programs like QuickBooks; generating real-time reports about who has paid their bills; exporting all data into popular formats like Excel or CSV files; setting automated reminder emails when clients have unpaid balances or upcoming due dates; customized branding elements such as logos or color schemes in order to give your invoices a unique look while also reflecting your brand image; automatic tax calculations based on different jurisdictions worldwide (depending on which version you choose); integration with online payment gateways so clients can pay right away without ever leaving their email inboxes/accounts/websites etc.; integrated customer relationship management tools for better understanding customer data points within the same program etc..
Overall, service invoicing software helps businesses save significant amounts of time when organizing finances – making it easier than ever before to manage customer accounts efficiently!
With Housecall Pro invoicing, it's easy for customers to pay their invoices online using a credit card or bank account. With just a single button, you can turn the online payment option on and off, leaving you in control.
Yes. You can set up automated reminders in Housecall Pro that prompt your customers to pay overdue invoices. You set the schedule for the reminders, and Housecall Pro sends them automatically, giving you time back in your day.
Making the switch to software can feel like a major transition, but Housecall Pro is here to help make it easy. We have a dedicated support team and a comprehensive help center that includes articles and tutorials to answer your questions.
Yes. Every business should have a professional, branded invoice for its customers. Housecall Pro makes formatting an invoice easy: simply upload your logo, add a message, and fill in your pricing. 
Making sure customers have easy options when it comes to payment is a great way to ensure they'll have a five-star experience with your company. Housecall Pro offers multiple payment options:
Accept credit card payments directly from the mobile app, including Apple, Google, and Samsung Pay, using our easy and professional card reader, scanner, or just key it in.
If a customer wants to pay later, email or text them an invoice to pay via credit card or ACH
Offer simple consumer financing options so that customers can break up larger payments into smaller monthly sums
Customize invoice terms to easily switch between residential and commercial customers
Housecall Pro allows Pros to offer simple consumer financing options so that customers can break up larger payments into smaller monthly sums.
Customize invoice terms to easily switch between residential and commercial customers.