What is the Home Service Super Summit?
Do you feel like your business is missing something you just can't quite put your finger on? Are you stuck wasting time managing specific areas of your business that other people could do?
Register for the Home Service Super Summit and learn how leading marketers and business owners streamline their processes and save time.
To really make this event amazing, Home Service Super Summit have partnered with GUINNESS WORLD RECORDS® to make this event an official record attempt!
The attempt is for the "Largest attendance for a virtual business conference in one week".
Everyone who attends this event LIVE (virtually) during the 4 days, can be officially listed as a participant and even get a GUINNESS WORLD RECORDS® Certificate (with YOUR NAME on it) after the event is over and the award has been presented!
Why Housecall Pro and the Home Service Super Summit are partnering up
Housecall Pro shares the vision with the Home Service Super Summit that it is pivotal for home service businesses to continue to invest in learning and growing their business. The Home Service Super Summit gives home service professionals the platform to do so.
With that said, Housecall Pro is offering future customers who attend the Home Service Super Summit 50% off if they attend a demo and end up signing up.
The Home Service Super Summit Features:
40+ speakers that are experts in their craft (including Co-Founder and SVP of Innovation & Growth Roland Ligtenberg and COO Brooks Pettus of Housecall Pro)
Access to all the recorded videos 24 hours a day
Exclusive invite to Home Service Facebook group for professional networking
You receive a free copy of: "Business Snapshot Report"
Why You Should Attend
Join 30,000 other business owners for the 2020 Home Service Super Summit and learn from the experts. Guest speakers will be sharing their secrets to saving time and money, all while growing their business in 2020.
You will learn topics like: Marketing, Admin and Leadership, Production and Sales.
The goal of the Home Service Super Summit is to help you take control of your business, maximize your profits, and do it all by learning from some of the best in the business.
The Home Service Super Summit is the largest-ever online event for home-service business owners. Over 40 speakers will share critical information to help service professionals grow their local businesses.
Who Should Attend
The Home Services Super Summit is exclusively designed for small-business owners of locally based home-service companies who want to grow and improve their business.
Industries that will attend…
Window Cleaning
Exterior Cleaning
Janitorial / Housekeeping
Carpet Cleaning
Landscaping
Pest Control
​Plumbing
​Electrical
​HVAC
Painting
​Remodeling / Construction
Garage Doors
Meet Some of the Speakers
Brooks Pettus, COO at Housecall Pro
Brooks Pettus' career as an executive and entrepreneur has focused on customer acquisition and operational excellence at early to growth stage companies. He has taken a data-driven approach combined with a people-centric mindset to build successful organizations from the ground up, as well as improving existing teams and processes.
US and international experience including developing teams in the US, Germany and Ireland. Functional build out and optimization of Sales, as well as the Customer Success, People, Analytics and Ops silos of the business. My experience with team building extends to Marketing and Finance as well.
Executive level leadership experience is supported by strong organizational and communication skills. My approach to management is to co-author strategy, define goals, and then mentor leaders to help them better support their teams, and to, in turn, introduce leverage into the business.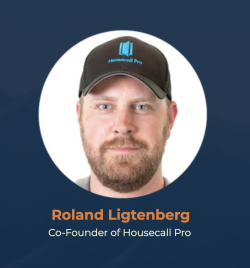 Roland Ligtenberg, Co-Founder and SVP of Innovation & Growth at Housecall Pro
Roland Ligtenberg is passionate about finding scalable growth channels through relentless zero-to-one execution. He loves creating product growth loops while simultaneously building out operationally & CAC efficient sales and marketing teams. Housecall Pro is revolutionizing the SMB home services industry through a SaaS-enabled marketplace & mobile operating system. In under 4 years, 65,000+ home service professionals use the platform on average 7.25 hours a day to streamline and modernize their business through automation. Billions of dollars of home service work are transacted through the platform yearly.
Brandon Vaughn, CEO of CONQUER and Founder of the Home Service Super Summit
After growing his cleaning company from $8k per month to $450k per month in less than 6 years and being awarded the SBA Small Business Person of the Year for the state of Oregon in 2017, Brandon wanted to find a way to give back to the community that had given so much to him.
His charisma and desire to help people who are where he was ten years ago make him one of the most dynamic forces in the home services industry. Seeking to launch the home services industry into the 2020's, Brandon Vaughn provides resources for anyone in the field to amplify their skills and increase their knowledge specifically in the area of systematization.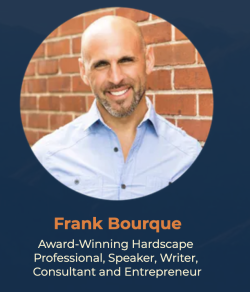 Frank Bourque, Award-Winning Hardscaper, Professional Speaker, Writer, Consultant and Entrepreneur
Frank is an award-winning hardscape professional, speaker, writer, consultant, and entrepreneur with an extensive background in business. After 20 years as a contractor and having owned and managed multiple multi-million dollar companies with over 100 employees to manage, Frank now coaches full time internationally and speaks at some of the largest conferences and contractor events throughout the US and Canada. He has been part of the speaker line-up and host at events such as Hardscape North America, GIE Expo, Landscape Ontario Congress – Hardscape Live, many more and is involved in over 80 industry events per year.
He also develops educational programs for many associations, including the Interlocking Concrete Pavement Institute, Landscape Ontario and more. Frank has written articles for Land 8, the Landscape Architect Network, Lawn & Landscapes and the Hardscape Magazine. He is also a certified ICPI & NCMA instructor, Certified Landscape Horticultural Technician and trains trainers across North America.
When is the Home Service Super Summit?
The Home Service Summit is spread out over four days, from June 11-14th, 2020.
Where is the Home Service Super Summit?
Completely online!
How Do I Register for the Home Services Super Summit?
Register for your free ticket here.
How to hire great leaders for your field service business
Control. It's probably why you started your own business in the first place. You wanted control over your time and your earnings. Control the way things get done. But as your business grows, you realize you can't do everything yourself. So if you want a business that's yours, but also one which can grow into something great – you need to hire great leaders. Download our ebook, Hanging up your boots and hiring leadership, to learn how to move away from being the boots on the ground and become the visionary that scales a truly great company.