No matter the focus of your home services business, your number one concern should always be your clients.
From electrical to HVAC to plumbing and everything else that falls in between, whatever your trade, a happy, satisfied customer is important to your current success. And, of course, your future growth.
But with all of the responsibilities of keeping your business moving forward, how can you manage the expectations of your customers and keep your marketing and sales teams on track at the same time?
One of the best ways to organize and guide the customer side of your business is through a Customer Relationship Management (CRM) system.
Just as you use home service software for handling your day-to-day business needs, you should consider using a customer relationship management (CRM) platform to manage your sales and customer data.
What is Customer Relationship Management Software?
A CRM platform is a tool that makes it easy to keep track of sales opportunities, including new leads, open estimates, and repeat business. It stores information about your customers and handles all the data, so you can just focus on your growing business. Here are some benefits of using a CRM for a small business.
Benefits of a CRM For a Small Business
If you operate an established home service company, you're probably ready to move beyond tracking all of your customer data by hand. If you're a new start-up, gaining a market presence as fast as possible is the key to success. And if you fall somewhere between, it means you're ready to take the next step in your company's evolution and need to streamline your sales and customer service.
To compete on any of these levels, you need a solution that kicks down the barriers to greater success. That's where a CRM can make a difference.
In the past, CRM was only used by large corporations. But now, even small businesses can afford it due to its low entry-level costs and powerful features. Today, CRM is a game-changer for companies of all sizes and industries.
A CRM can help you scale your business to your current needs. Finding the right CRM will also put you in control of the business-client relationship, with features that will help your growing company carry a big presence.
But that's just a sample of what a CRM can help you achieve. Let's look at the most significant reasons your business needs a CRM.
12 Reasons Every Home Service Business Needs a CRM
Among its many benefits, a CRM platform helps streamline your sales process, which can mean increased productivity, better customer service, and higher profit margins. Let's take a look at 12 specific reasons to use a CRM for contractors and home service businesses.
1. Easily Visualize Your Sales Pipeline
A home service CRM puts all of this information into an easy-to-digest visual format that you can understand at a glance. From leads to prospects to repeat customers, you can see who's at which stage of your sales pipeline, which potential customers are closest to booking appointments, and whether you have enough leads coming through to hit your revenue targets.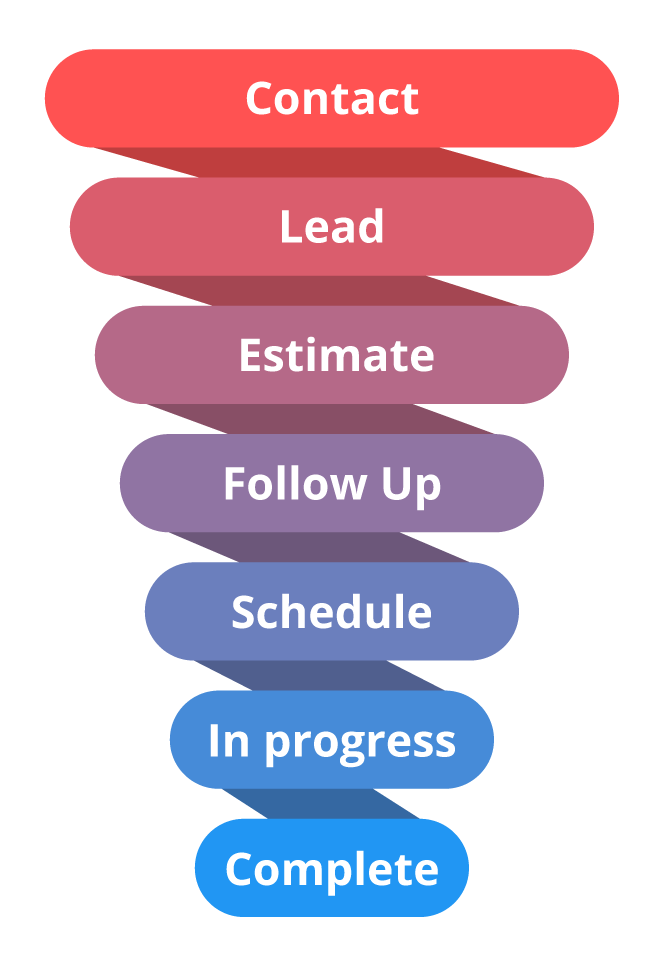 2. Forecast Revenue More Accurately
When all of your customers and opportunities are tracked in a CRM, you can visualize the likelihood of each deal closing, which means you can predict future revenue much more easily and accurately. Since forecasting is crucial for budgeting and keeping your business running smoothly, this is one of the most powerful arguments for using a CRM for contractors.
3. Spend Less Time Managing Customer Data
As your business grows, keeping track of everything happening with your sales process gets harder and harder. The bigger your pool of leads and potential customers gets, the more reasons you have to consider switching to a CRM platform. One of the biggest benefits of a CRM for contractors is the ability to automatically keep sales data organized.
4. Deliver Better Customer Service
Since a CRM allows you to track all customer communication in one place, it provides value to your team as well as your customers. A CRM gives you a better understanding of your customers, which improves the customer relationship and creates a better service experience.
Since CRM allows you to track customer requests from sales call to house call, you'll have an easy time making note of those requests in the CRM. That way, your technicians will be aware of them when completing the job.
5. Never Forget to Follow-up With Leads
In many ways, sales is a numbers game – and it pays to be persistent. So, always remembering to follow-up with potential prospects means you can land more new customers. If you make the effort to put together an estimate for a potential client, but then forget to follow up to ask if they're ready to book could mean leaving money on the table.

On average, 80% of sales take five follow-ups to close (and only 8% of salespeople bother to follow up that many times!), so a CRM can help you win new business by simply reminding you to follow up consistently.
6. Use Data-powered Insights to Perfect Your Sales Process
Even if you employ a driven, hard-working sales team, old-school sales and marketing techniques can create unavoidable disconnects. If you're tracking it all manually, it can be challenging to identify shortcomings and develop strategies where you can improve.
A home service CRM can help you uncover insights about your sales process. You can see where each sales opportunity is in your pipeline – from new contacts and leads to open estimates and prospects you need to follow-up with to long-term customers.
Here are some sales metrics you can measure:
Average close time
Average job value
Percentage of closed estimates
Customer data
Service people data
Sales rep data
Tracking these metrics allows you to finetune your sales tactics to close even more deals in less time. These numbers from SalesForce show that by using a CRM, you can increase sales by 29% and sales productivity by 34%.
7. Find Ways to Maximize Your Revenue
Because a CRM provides you with a bird's-eye view of your sales pipeline, you can see where there might be any untapped opportunities.
For instance, you can use the information you have about prospects to upsell or cross-sell complementary services related to their original estimate. This might include something like offering a preventative maintenance plan after an HVAC installation. This is especially beneficial when using HVAC estimating software, as it allows you to accurately assess project scopes and potential upselling points.
8. Better ROI On Your Marketing Efforts
Even when you figure out how to maximize your sales revenue, it's important to ensure your marketing budget is being put to the best use possible. From brand new start-ups to long-term providers, having a cohesive marketing plan ensures your brand continually expands.
Since your CRM stores so much customer data, you can identify details like the best times to reach out to make a sale and your most profitable customer types. This gives you a better idea of who to spend your marketing budget on and when to target them with ads for the best return on your investment.
CRMs remove a lot of the guesswork that comes with establishing or maintaining a market presence. With a CRM in your corner, you can more quickly analyze market data and act upon a number of variables that help focus your business approach. A few of the most notable include:
Understanding who your ideal client is
Targeting the specific needs of those clients
How to respond to client behaviors
When is the best time to promote services
What is the most beneficial methods to promote services
Frequency and method of ongoing client engagement
CRMs help you market better by informing how to use your resources and when to employ specific strategies to maximize your service and sales – and their success is proven. According to Nucleus Research, investing in a CRM returns on average $8.71 for each dollar spent. That's certainly an impressive ROI.
9. Your Information is Secure Yet Accessible Anywhere
A modern CRM for contractors allows your team to securely store and access your data from anywhere. All of your data is stored safely in the cloud, so your service technicians can find the information they need on their smartphone wherever they happen to be working that day. Employees with access can make notes on a client's file, adjust estimates, request specific materials, and move opportunities from one pipeline stage to the next.
10. Improves Customer Service
From setting an appointment to receiving a bill, customers have certain expectations of how the service process should evolve. Deliver on those expectations, and you gain a long-term customer. If you fail, it could spell bad news for your business.
How does a CRM fit into this vitally important equation?
According to a business poll from Capterra, 47% of CRM users noted it made a significant impact on both customer satisfaction and retention.
CRMs allow you the ability to automate much of your customer-related operations. This automation lets you be consistent with your service, regardless of where a client is during the sales and retention cycle.
A few of the customer-related tasks a CRM can help you automate include:
Marketing: Generate specific communication to a targeted list of potential clients
Sales: Help your sales team automate repetitive tasks so they can spend more time one on one with potential customers
Invoicing: Once you finish a job, get your billing out faster than clients expect (plus you get paid more quickly)
Follow-up: Send timely surveys to keep the customer engaged and open up future service opportunities
Ongoing Relationship Management: Tailor a customized plan for each client by understanding their purchase history, service schedule, or engagement preferences
Ultimately, with a CRM you can deliver a more timely, efficient, and personalized experience to your customers.
11. Makes You More Efficient
Better customer service. Better marketing. Better sales. Notice a pattern? A CRM is designed to improve your overall operations, and much of it comes from making multiple aspects of your business more efficient.
From centralizing data to streamlining your analysis to improving customer engagement, a CRM helps your team avoid redundant work, common errors, and overlapping service calls. Basically, your organization can work smarter, not harder, while still aiming towards the same collective goals.
CRMs also improve your reporting, giving you access to more accurate and usable data than manually collected. Robust reporting also means looking at the reports that are important to you without sifting through numbers that are often just filler.
In addition, a CRM can eliminate a lot of tedious tasks through automation. Necessary functions such as billing, follow-up surveying, or the completion of forms or other vital paperwork can all be simplified.
Not only does this level of automation improve the pace and accuracy of your operations, but it also produces the added benefit of providing customers with a better overall experience.
Plus, CRMs allow your business to go mobile. Nucleus Research shows that this alone can increase productivity by more than 25%.
12. Enhances Your Communications
Speaking of going mobile, our methods of communication are increasingly on the move. With a single handheld device, people can:
Make phone calls
Read and respond to email
Send and receive text messages
Access any number of social media apps
Visit websites and complete forms or make appointments
Review and pay invoices
It makes sense to have a business tool that helps consolidate the various ways you communicate and interact with current and potential customers. A CRM puts all of these communication points in a single spot. When centralized, it's easier for your team to review past engagement, capture new interactions, and work with clients in real-time.
A CRM doesn't stop there though. For your company to truly be successful, it must engage customers where they spend the majority of their time, and today that means social media.
For a small to medium-sized service company, managing social media accounts can be a massive undertaking – but it's a necessity regardless of your business.
A CRM lets you manage your social media presence – Facebook, Twitter, Instagram, LinkedIn – so you can easily post, respond, and maintain a consistent message across all platforms.
Faster and more accurate communication leads to much greater visibility and productivity for your brand.
How to Identify the Best CRM Solution
When choosing a CRM, there are some questions you'll need to ask before determining which solution will help your business. Many of these questions involve the specific needs and goals of your business.
With that in mind, let's examine four essential considerations you should make when identifying a CRM solution.
1. Affordability
As with most services, CRM software comes in all flavors, and so do their price points. Initially, most of the CRM platforms appear relatively inexpensive, with most offering free trials to try out their solution. Though once you commit to a service, the entry-level pricing may rapidly increase.
That's why you must set a limit for what your company can or is willing to spend and then understand the price structure of each service you consider. Be sure to explore potential hidden costs like:
Setup or training fees
Costs for extra data storage
Customization charges
Premium options for contact volume
Escalating fees for more reporting
Pricing for additional, non-standard features
Set a budget, do your research, ask plenty of questions, and determine which CRM pricing structure best serves your spending goals.
2. Integration
With integration, there are actually two things to consider – how a CRM will integrate with any existing business tool you're using, and how easily it will mix with your current sales and marketing processes.
For business tools, any CRM worth its salt will successfully integrate with the majority of services you currently use. Here are some integration points to include:
Accounting (QuickBooks HVAC software)
Customer Engagement (HousecallPro, Slack)
Documentation (HelloSign)
Email and Calendar Programs (Gmail, Outlook)
Lead Generation (Drift, Zapier)
Marketing Tools (Constant Contact, MailChimp)
Social Platforms (Facebook, LinkedIn)
Websites (WordPress)
There is a lot to consider up front, but it is well worth the time once you fully reap the benefits of consolidating all of your tools into one place.
When it comes to integrating your sales and marketing operations, the most important question is whether the platform will be easy for your team to use. After all, you want their focus on generating new business and retaining current clients.
In addition, make sure you can import existing data into the new platform and that it doesn't force you to rethink your entire sales and service approach.
For the most part, a CRM is made to be easy to use, but make sure you know the learning curve and limitations involved with each provider when narrowing down your choices. You want a seamless, positive onboarding process that results in a quick adaptation.
3. Infrastructure
Determining how you will deploy a CRM within your organization comes down to your current structure and if you plan to change the setup in the future.
When choosing between a SaaS (software as a service) CRM, which are cloud-based platforms, and an in-house CRM, where you own the software outright, you should consider the following:
How much authority do you want (or need) to have over the platform and data? (In-house you oversee it all; SaaS comes with less control)
Will you employ an IT team to handle an in-house solution or source with a third-party?
Do you want to make a substantial initial investment with in-house setup or put up little upfront money but potentially spend more upgrade dollars over time?
Ultimately, whatever CRM solution you choose now doesn't mean you have to stick with it for the life of your business.
The importance of infrastructure is knowing where you want to be for the immediate future but then leaving yourself enough flexibility should your needs change.
4. Business Needs and Customization
When looking at a CRM, it's important to recognize if you're getting an out-of-the-box solution or one that can move as your company moves. Even within the home services industry, there is specialization.
You'll want a CRM that best serves the needs of your unique business. Look at who different providers have worked with and identify ones that understand your company's specific requirements.
Keep in mind that this doesn't just extend to your business type and necessary integrations, but also where your business operates. There may be local considerations that are vital to the growth of your brand, so make sure the CRM can tap into this aspect to meet those needs.
Last, make sure your CRM can grow as your company does. Choosing a CRM specializing in small businesses won't help your already medium-sized business get to the next level.
Find a service that supports where you are now and offers scalability that will support you as your business develops.
The Best CRM Solutions
There are plenty of choices with CRM solutions, so take your time reviewing what each one offers and their pros and cons.
A CRM ends up as a partner to your firm, so you'll want to ensure they fit as a worthy complement to your brand. Check references and the platform's reputation as well to make sure it's a good match.
Almost every CRM offers a free trial, so take advantage of the trial period to grasp the features and functionality of each platform. Employing a CRM to help your company is no small endeavor, so your due diligence should match its level of importance.
To help get you started in finding the right CRM, here are seven of the most popular solutions today:
If you're looking for a robust CRM at an extremely reasonable price, look no further than Housecall Pro. With features such as easy scheduling, digital estimates, online booking, dispatching, On-My-Way texts, and live map GPS, Housecall Pro has everything you need to effectively run your small business. It really is the all-in-one app you need to run your business.
One of the two biggest names in CRM (along with Salesforce below), cloud-based HubSpot is known for ease of scalability, simple onboarding and usability, and the capacity to evolve as your company grows. One of HubSpot's best attributes is the focus the system places on customer relationships and allowing businesses to build them organically.
Though pricey, if you can afford it, there are few all-in-one CRMs more powerful than SalesForce. Once exclusive only to large corporations, SalesForce now offers small and mid-size business solutions that help get your CRM initiatives up and running with little stress on your end. The platform is particularly helpful for those looking to improve support and sales capabilities no matter where they are in the growth cycle.
Zoho is all about customer engagement. Tools include seamless communication on social media platforms as well as enhancing customer interaction through traditional outlets like phone, email, and live chat. A central database helps to keep these conversations organized and accessible. Reporting is also a strength to help pinpoint both sales performance and in measuring the client journey.
Pipedrive proves a flexible CRM for all business types with keen attention to enhancing the overall sales process. Identifying both the good and bad of your sales generating pipeline, Pipedrive helps to serve up actionable data to keep your lead generation and sales on track. It is also a great tool for those that subscribe to the robust sales funnel method.
If your company is looking for a fully customizable CRM solution, SugarCRM is worthy of your time. Geared towards developers, this platform helps you create a solution that fits your needs. Because of the level of personalized modification available, you should employ a knowledgeable and very talented IT team to get the most from this software.
Online CRM Freshsales is best suited for firms that deal in volume sales. In addition to sales centric tools like lead scoring, behavior tracking, and bulk email customization, you can easily track the customer's journey from the first contact on through to personalized communications after service.
Funny name for sure, but it's a great option to consider if you're seeking out a CRM solution on a modest budget. Although not as robust as other platforms, they offer a more straightforward approach to managing your sales and customer engagement activities. Less Annoying CRM is a good fit for small businesses. It can also provide value for larger firms wanting to take their time with the process.
Final Thoughts
Sure, that is a lot to consider, but if you aim to get all of the customer-related elements of your business tracking towards the same goal, then a CRM is worth the time and effort necessary to integrate it with your business.
Just remember that a new platform meant to consolidate your marketing, sales, and service requires patience, due diligence, and an eye on your current needs and future objectives. Finding the right CRM will help get you exactly where you want to go.