Which Is the Better Lead Generation Service?
Of all the home service marketplaces, Angi and HomeAdvisor are probably the best known, but that doesn't mean they necessarily provide the best quality service for homeowners or contractors.
Each provides the promise of connecting you with new clients. But are they worth the advertising dollars or the time and effort to monitor your presence and follow-up with leads? We'll take a closer look at these two industry leaders to see if either is a fit for your company.
But before we get started on the in-depth platform comparison, you should know that both Angi and HomeAdvisor are currently owned by InterActiveCorp (IAC), the parent company of ANGI Homeservices.
ANGI Homeservices is a collection of brands including Angi and HomeAdvisor, as well as Handy, Fixd Repair, Homestars, and other home service online marketplaces. While they maintain separate operations and run independently of one another, any monetary investment you might make with any of these services ultimately ends up in the same spot.
Need a better way to communicate with your team?
Housecall Pro makes it easy to communicate with your team and customers. Through our desktop platform and mobile app command center you can easily see and dispatch the right crew, send messages in real time, and connect your techs to customers for clear communication. Request a demo today to discover how much Housecall Pro supports your success.
How They Work
Angi's claim to fame is its huge list of over ten million verified customer reviews. It's through these reviews that they've built their dedicated following. Homeowners used to pay for access to the site and the reviews, but there's now a free membership option, as well as two other membership plans with more features.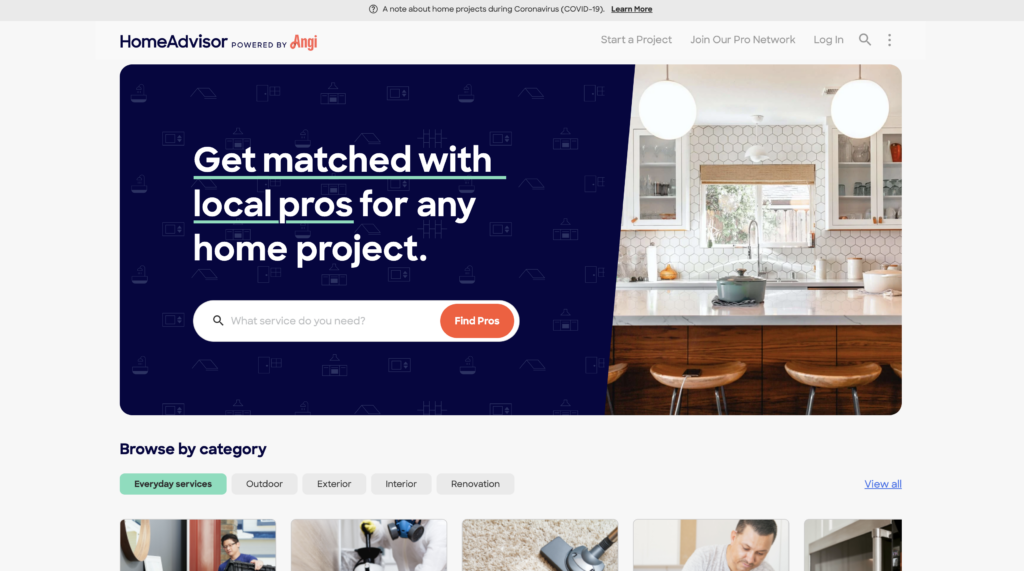 HomeAdvisor has always been free for consumers which has helped the platform grow its large userbase. It now has millions of committed users.
Angi former paywall used to be a possible indication that its leads were higher quality, the theory being if people were serious enough to put down some cash, they're more serious about hiring a contractor.
But now both platforms offer free access. Angi has been around longer, but HomeAdvisor has grown more quickly. Overall, both sites have a large userbase offering fierce competition for leads.
While both directories have mobile apps, HomeAdvisor also employs their "Instant Booking" tool. The feature allows consumers to directly book openings on a contractor's calendar.
Background Checks
Angi's background checks are relatively standard. HomeAdvisor is much the same, but have run into issues with some of their background check claims. If your firm maintains its own high-level background checks, this should not impact you directly.
In some areas, where the validity of marketplace background checks is questionable, it could affect consumer confidence in the marketplace as a whole.
Listings and Brand Ownership
One more important aspect of working with either HomeAdvisor or Angi is how they handle your listing.
With HomeAdvisor, their terms of service outline their ability to use the information within your business profile to direct traffic back to their website. In other words, they use your brand to promote their own brand. Even with it stated in the fine print, many contractors – rightfully so – consider this to be a poor business practice.
Based on the user agreement for Angi, your listing may be free, but they basically own it. Their terms are similar to HomeAdvisor, though they are less blatant about promoting their brand at the expense of others.
With both marketplaces, it's crucial to understand the limitations you face when listing on either service. The more educated you are on your listing and content, the better off you'll be should a problem arise.
HomeAdvisor and Angi Site Statistics
Since Angi was acquired by IAC in 2017, most published data combines information on all of the home service brands, so it's harder to get new statistics on the number of users and revenue to compare the sites.
Here's what we know. At the time of its 2017 acquisition, Angi was valued at over $500 million with over 5 million members and more than 50,000 professionals as part of its platform. The site has also exceeded 10 million reviews. The newest stat we could find, angieslist.com has an estimated 19 million site visits per year.
In 2015, HomeAdvisor reported over $300 million in annual revenue and 90,000 approved home service providers. HomeAdvisor now claims 45 million users over its lifetime over 5 million reviews. The site currently averages 37 million site visits per year (almost double Angi).
Pricing and Fee Comparison
While both services offer relatively straightforward membership options to the consumer, the provider investment is less simple and you could end up paying more than you planned.
Angi Pricing
The Angi provider fee structure is the murkier of the two. A company listing on the site is free (but is owned by Angie's List), but if you hope to achieve any level of visibility, you'll have to pay for it.
This model is similar to Google searches and paying to rise above the organic search listings. The benefit of this model is that more of your company info is visible to potential clients, but the per click ad rate is market-driven and can run anywhere from $4 to $8. This cost can quickly increase.
Angi also allows contractors to offer discounts to new customers. These are a big player on the site because it's one of the perks of paid membership by a homeowner (paid subscribers get access to specials, free users don't). Again, nothing earth-shattering, but it can drive up your costs.
Beyond that basic structure, there is a catch to your listing that we'll cover in the pros and cons section below.
HomeAdvisor Pricing
With HomeAdvisor, the pricing is more straightforward, but a bit more costly.
To list your company, there is a $350 annual fee. Instead of showing a list of companies, HomeAdvisor selects companies to send to the customer. And if you want to connect to one of these possible clients directly, you can pay anywhere from $15 to $100 per lead.
There are instances where you are granted a refund of the lead fees if they do not result in actual work, but you might have to chase those down.
Reviews and Ratings
How Angi and HomeAdvisor Score Services and Use Reviews
HomeAdvisor uses a basic rating system of one to five stars. It's pretty cut and dry.
Angi bases their scores off "A" through "F" letter grades. As we noted earlier, they claim to have over 10 million verified reviews on their site.
Angi uses of letter grades as something of a reward system for contractors. In other words, a positive review on Angie's List will carry more weight than a good review on HomeAdvisor.
Companies that maintain a grade of B or higher are allowed to buy ads on the service, therefore improving their site ranking. C or below, and your listing remains on the site, albeit with a much lower rank.
The big gotcha with your Angi listing is that for it to advance in the rankings, you'll need customer reviews. Lots of them. And they all better speak highly of your services.
Your visibility can rise and fall with the reviews and ratings you receive, which you have zero control over. Of course, if you are stuck down at the bottom of the rankings, you can overcome the placement by purchasing ads.
For all its popularity with homeowners, Angi, from a provider standpoint, best serves Angi legacy companies — those who've invested time and money over many years in the marketplace to strengthen their rankings, acquire a ton of positive reviews, and spend money when necessary to ensure consistent visibility.
Ratings and Reviews From Contractors of The Platforms
As for the reviews from actual contractors, we turn to the Better Business Bureau (BBB). Currently, both sites maintain an A to A+ letter grade with the BBB (meaning, they reach out and resolve conflict with business owners that complain through the BBB); however, their customer ratings are less than desirable.
Angi ranks lower with 1.22 out of 5 stars. HomeAdvisor's customer review score is 2.24 out of 5.
Other Pros and Cons of Using ANGI Home Services
On the plus side, both sites require a background check on their providers and offer some level of customer service when you are listed. In addition, both HomeAdvisor and Angi have great SEO. If you type "HVAC repair near me" in Google, both Angi and HomeAdvisor are often at the top of the results.
There are differences, however, and though each service has redemptive qualities, there are notable drawbacks worth considering before aligning with either service.
HomeAdvisor presents itself as a better fit for larger-scale projects like home remodels, which means those specific contractors can more easily find a ready and willing base of new clients. Overall, the site also presents a fairer field of competition versus Angi's "pay-to-play in the big leagues" model.
However, the lead-bid approach can unknowingly drive up costs without any promise of actual work coming from your efforts. That bidding also means a lot of competition amongst service providers for a less than comparable volume of work.
With its skew to larger home improvement projects, HomeAdvisor is not always the best site to cultivate repeat customers. Plus, as a completely free site for the homeowner, there are plenty of window shoppers with hands in their pockets and only simple estimates on their minds.
Housecall Pro's Own Research
We surveyed over 140 service professionals about their usage of different lead generation sites including Angie's List, Facebook, Google (including Google Local Services), Home Advisor, NextDoor, Thumbtack, and Yelp.
We separated our findings into three categories: HVAC, plumbing, and electrical; cleaning sectors, and other industries such as handyman, lawn care, and garage door services.
In all three categories, we found that HomeAdvisor outperformed over Angi in the average cost per lead, average monthly revenue, and the average number of jobs per month scored from the platform. And cleaning industries had the best outcome with HomeAdvisor overall.
Our Verdict
So, will your business find success with either Angi or HomeAdvisor? The answer is a resounding, maybe. Just don't put all of your marketing resources behind either service.
Each marketplace should be viewed as a small part of your company's broader marketing plan — things to try to see what works best for your business.
Robust advertising that targets your specific client base, a healthy referral network, and a reliable website that promotes customer engagement will do more to grow your business than anything else.
That said, if you're struggling to find new clients or want to try a new marketing avenue, each service is worth a shot as long as you read the fine print, understand their policies, and go into with reasonable expectations.
---