Flat Rate vs. Hourly: Which One Should You Choose?
There are lots of opinions on the best way to price trade services. By and large, we've found that the majority of our own home service businesses we work with prefer flat rate and so do home service customers. But it doesn't necessarily work as well across all job types.
Many use a hybrid approach, such as offering flat rate unless a project goes over a certain time limit or offering a flat rate on installs and hourly on repair work.
In this article, we'll look at why so many pros are making the switch to a flat rate system, some of the hybrid approaches our pros have implemented, and best practices for doing flat-rate well.
But this is your business, and every business is unique. We'll start with some of the core strengths and weaknesses of both flat rate and hourly pay structures so that you can make a well-educated decision for your business.
Flat Rates: Pros and Cons
A flat-rate contract, also known as upfront pricing, is one in which your business quotes a simple price for the service ($130 to replace an appliance cord, for instance).
Rate books (a booklet that has an itemized list of your services and their flat rates) for home services are becoming more popular. This is due in no small part because customers prefer them. But flat-rate work may also present some unique advantages to you, the provider. Here are some pros and cons.
Pros to Flat-Rate Pricing:
Predictability.
Customers like flat rates because they're predictable. They could also help you more accurately estimate your growth margins if you know how many calls you typically receive over a period of time for each type of service. The key to maintaining predictability, however, is having flat rate prices for every scenario. If you quote a customer for the flat rate for a pipe replacement but discover you need to drill into a slab to access the leak, there should be a flat rate for slab repair available to quote them.
Shorter billing cycle.
Upfront, flat-rate pricing also translates to a quicker billing cycle. With T&M pricing, your tech may have to prepare a ticket, submit it to the office to create an invoice, then send it to the customer. Customers may be able to pre-pay when you know the cost upfront. If you empower techs to receive payment on-site, customers are less likely to dispute the invoice when they agreed to the flat rate upfront.
Potential for larger profit.
Techs in flat-rate shops have more incentive to work quickly. This could mean you're able to book more jobs per week. It could also mean you earn more than you would have per hour. Say you charge $235 as a flat fee for a specific water heater repair. The hourly rate would have been $100/hour and the parts are $45. If your techs can get the job done in an hour, you'll net $90 more than you would have using T&M pricing.
Potential Cons to Flat Rates:
Limited flexibility.
The obvious downside to fixed pricing is that the job could get more complicated once it's underway, and you've locked in a certain price. This problem can be negated somewhat by creating a detailed, itemized price book that allows you to add on additional services. Still, if the issue is not that an additional service is required — just that the one you promised will take a long time — you could end up losing money because you didn't charge hourly.
Requires frequent updates.
As inflation changes, the price of your parts go up, and you give your employees raises, you'll need to update your rate book. Calculating new prices and printing new copies of your rate books could be costly and should happen at least once a year (if not twice).
Hourly (T&M) Pricing: Pros and Cons
Time and material rates mean the final invoice is in flux until the moment the job is complete. You quote the customer a rate per hour and the cost of the materials, and usually provide an estimate. One of the reasons some businesses stick with T&M is they feel more confident about walking away with a profit.
Pros to T&M Pricing:
Greater job scope flexibility.
Quoting customers based on the anticipated amount of hours and parts cost at the start of a job is different than promising a flat rate. T&M rates still leave room to add costs in the event of unexpected discoveries during a job. You thought you were just flushing out a water heater but then discover there's way more sediment in the drain than normal. If it takes another hour to clear it — you'll definitely be compensated for that time.
Works for jobs of all scale.
While flat rates are ideal for jobs that tend to be routine (emphasis ontend to — we know even simple jobs can turn difficult), T&M pricing works for small and large scale projects.
Potential Cons to T&M Rates:
Customers may not like uncertain prices.
As we mentioned above, customers overwhelmingly prefer flat rates. Flat rates could lead to faster sales. If you're charging by the hour, you will deal with more complaints from customers asking why the techs took so long, why they took a break, etc. Some customers may also hover to make sure the techs are working "fast enough." Similar issues can crop up even with fixed-rate pricing, but customers are more likely to complain when an invoice is higher than they expected (not that we have to tell you that).
Requires more experienced techs.
Assessing the scope of a job and offering a projected scope to the customer requires more experience than going by a price book. You'll need experienced techs in the field to offer T&M estimates. If you have a lot of turnover, this could present problems. It's easier to train someone on a rate book than how to draft an accurate T&M estimate.
Best Practices for Switching to Flat Rate
If you're convinced that there's good reason to try out flat rate, system, check out these best practices on how to get started.
Hybrid Approaches
Rarely does a business offer exclusively flat rates. Instead, many of the plumbers, electricians, and HVAC professionals that work with Housecall Pro offer a hybrid approach. Here are some of their own explanations of how they do it from a private Facebook group.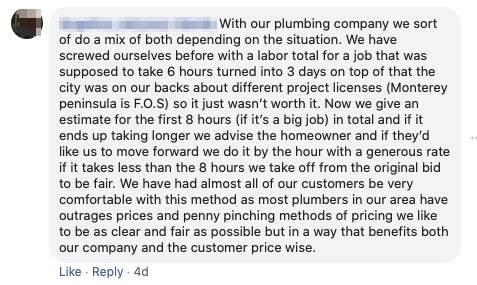 Pros set their pricing structures based on their past experiences and what has worked best for them. They're not rigid about hourly or flat-rate-only.
If it's your first time offering a certain service or working on a particular piece of equipment and you don't have a clear scope of work or a good guess as to the number of hours the project's going to take, an hourly rate might make more sense.
We hope these examples show you just how flexible your own pricing structures can be.
How to Create a Flat Rate Price Book
You have two main options when it comes to creating a flat-rate price book. You can make your book entirely on your own, or rely on a professional to create one for you. If you're new to flat rates, going with a pro is usually worth it. Still, here are some things to consider.
1. Start with your desired price margins
It's good to keep industry standards in mind when setting your prices, but that can't be the last word on the matter. To remain profitable and growing, you want to make sure your profit margins are covered.
For hourly rates, this means making sure you can pay your techs, cover their transportation costs, price the parts at above cost, and still have a profit. When it comes to flat rates, you have to bake all relevant factors together into one profit pie.
It doesn't matter if you're figuring out your hourly rate or your upfront prices, you need to factor in your overhead and labor expenses. Break your overhead costs down to the dollar-per-billable-hour so that you know how much to charge per hour or job to cover these expenses.
2. Factor in as many variables as you can
According to HVAC flat-rate software provider Grow My HVAC, flat rates should include variables like:
Unique local labor costs
Parts and material costs
Local tax rates
Unique overhead costs
3. Set different prices for members or service agreement customers
Reward customers who select a recurring service agreement or VIP plan by offering them better prices, but make sure that you're still meeting your desired profit margin. Our recommendation: set your service agreement price first, then add a set percentage to all of your prices for non-members.
4. Choose between flat rate software and building your price list by hand
Using software like Profit Rhino can make it easier for techs to look up pricing in the field and calculate variables like member and non-member pricing. Housecall Pro users can also upload price lists, saved from other software as an excel file, and use the data to generate estimates or sales proposals that offer customers different options to chose from.
We talked to some of our Housecall Pro business owners about whether they prefer to use software or build their own price book from scratch. They came back with varied opinions. Some owners love the benefits that flat rate software brings while others see it as an added complication.
If you're unable to find software that integrates with your other programs at a price point you can afford — it is possible to create your own price book and educate your techs on it.
Examples of Common Flat Rate Pricing Systems
Each industry will have slight variances in how their services are offered; however, they share more similarities than differences. For instance, many service industries are great candidates for flat-rate recurring service plans that include service discounts and free inspections.
Plumbing
These examples (offered by Grow My HVAC) provide an idea of how to break up plumbing services based on the scope of the job and equipment used. Plumber Magazine points out, you can set a baseline price and create add-ons for additional fees. For instance, the cost of one toilet rebuild might be $175, with a price of $125 for each additional toilet to make the pricing fairer to the customer.
Clear Main Sewer Line Up to 50 Feet
Clear Main Sewer Line up to 100 Feet
Clear Main Drain Using Gas Hydrojet up to 2 Hours
Clear Main Drain Using Gas Hydrojet up to 3 Hours
Clear Toilet Using Hand Auger
Clear Toilet Using Hand Plunger
Treat Main Drain Using 1-lb Chem Drain Cleaner
Treat Main Drain Using 2nd 1-lb Chem Drain Cleaner
HVAC
HVAC pricing also needs to account for a lot of variables like the amount of freon used on a job. Or, when calculating warranty work, it's important to factor in manufacturer requirements.
This helpful example from an Ohio heating and cooling company gives you an idea of how to break up line items in your price book. It also brings to light that sometimes a typical price range should be offered in your flat fee book, not a single guaranteed price (items where a price range is appropriate are noted).
Recharge Air Conditioner with 1st Pound of R22 Freon
Each Additional Pound of R22 Freon
Recharge Air Conditioner with 1st Pound of R410a Freon
Each Additional Pound of R410a Freon
Replace Typical Motor Blower (offers price range)
Replace Typical Hot Surface Ignitor (offers price range)
Replace Thermostat – Basic Non-Programmable
Electrical: Finally, electrical work may not require the drainage supplies or fluids common in HVAC and plumbing, but that doesn't mean there aren't a lot of moving parts involved. In electrical work, the chief consideration is making sure you indicate what exactly is included in each service. If you install a fan, is the wall switch included? When you install a wall switch, is the wire included? Itemization is crucial to electrical flat-fee pricing.
TurboBid has provided this sample invoice for an electrical flat-rate project. Check out some excerpts below.
Install 52″ White Indoor Ceiling Fan (Outlet box not included)
Install Cathedral Center Mount Fan Box: Up to 50′ 14/2 Romex Cable
Install Decora Style Fan Light/Speed Control Switch (Switch box not included)
Are you ready to consider a flat-rate pay system for your company? Talk to Housecall Pro about creating a price list for your HVAC, electrical, or plumbing business. You might be surprised at how much you love the ease and streamlined nature of flat rates after all.