When you're running a small business, it's important that you offer your customers fast and efficient payment processing. Not only does this help your level of professionalism, but it also ensures you're paid in a timely manner for your products and services. One note to keep in mind as you process payments is the need to keep sensitive credit card data safe. Especially if you plan to receive recurring payments from a customer on an ongoing basis, you should use a credit card authorization form to reduce the risk of fraud.
Keep reading for a general overview of credit card authorization information or navigate directly to the section relevant to your questions.
What is a credit card authorization form?
A credit card authorization form gives permission to a merchant to use a credit card for a specified amount of time. In most cases, a credit card authorization form is used to allow companies to continue to charge an individual on an ongoing schedule which can be biweekly, quarterly, or at any set schedule. They come in handy when a business needs to charge a customer recurring costs for ongoing services.

How is a credit card authorization form helpful to a business?
A credit card authorization form helps businesses protect against fraud and chargebacks.
A chargeback is one of the most important payment processing terms you need to know. It protects customers from transactions that they weren't responsible for or were wrongly charged. A chargeback happens when a customer fights a charge from a business and asks the card issuer to rescind the charge. This is different than a voided charge, which is a transaction that was never fully settled.
For businesses, chargebacks can be a major issue because it ties up funds that would otherwise go to your business until the credit card company decides whether to leave the charge or reverse it. From the business end, chargebacks require quite a lot of paperwork and time in order to fight the dispute.
A credit card authorization form is a way to protect against chargeback claims because it provides you with a signed document from the cardholder that gives you express permission to charge their card. With that kind of documented proof, it's much easier to dispute the chargeback with the credit card company.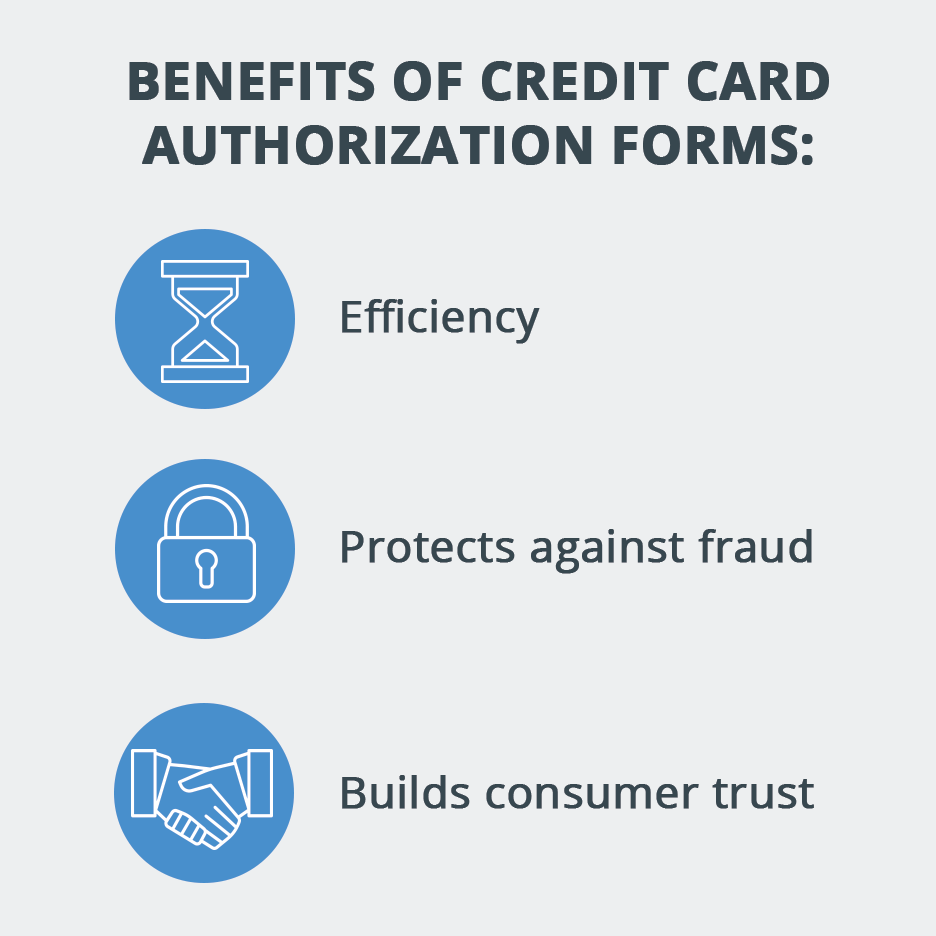 How is a credit card authorization form helpful to a customer?
A credit card authorization form allows a customer to buy something even if he or she doesn't have their credit card with them at a particular moment. The form includes all the cardholder's necessary information and allows the seller to store that customer's credit card authorization. With a credit card authorization form, customers benefit from speedier transactions.
How do credit card pre-authorizations work?
A credit card pre-authorization puts a hold on a cardholder's account which temporarily decreases a customer's credit limit (on a credit card) or available funds (debit card) while the transaction processes.
Pre-authorization process:
A card is swiped
Issuing bank automatically puts a hold on funds or credit
Sale complete, transaction processed
The temporary hold is taken off
Final cost settled
A pre-authorization helps reduce the risk of fraud overall because it puts a temporary hold on the card. The length of the hold depends on the merchant classification code but it usually lasts between four and seven days. Within that time, the account owner can't spend the funds which are tied up in the hold.
What is the credit card authorization process?
The credit card authorization process goes through several stages before the transaction is fully settled.
Cardholder makes a purchase: The transaction starts when a customer orders something or makes a purchase at a store, over an e-commerce site, or gives out payment information remotely.
Payment information is submitted: The payment data is sent to the bank.
The "acquiring" bank sends an authorization request to either Visa, MasterCard, alternative banking organization. The processing bank then transmits the payment data to the respective Credit Card Association, requesting transaction authorization.
The Credit Card Association sends the authorization request to the card issuer.
The card issuer accepts or declines the transaction: Once the card issuer makes an authorization decision, the response is sent back to the merchant via the same channels.
The responses from the card issuer can be one of the following:
Approved: Issuer approves the transaction, 95% of transactions
Declined/Card Not Accepted: Card issuer doesn't approve the transaction.
Call, Call Center, or Referrals: Follow instructions from the authorization center.
Pick Up: Issuer wants you to keep the card.
No Match: This usually means the card is counterfeit.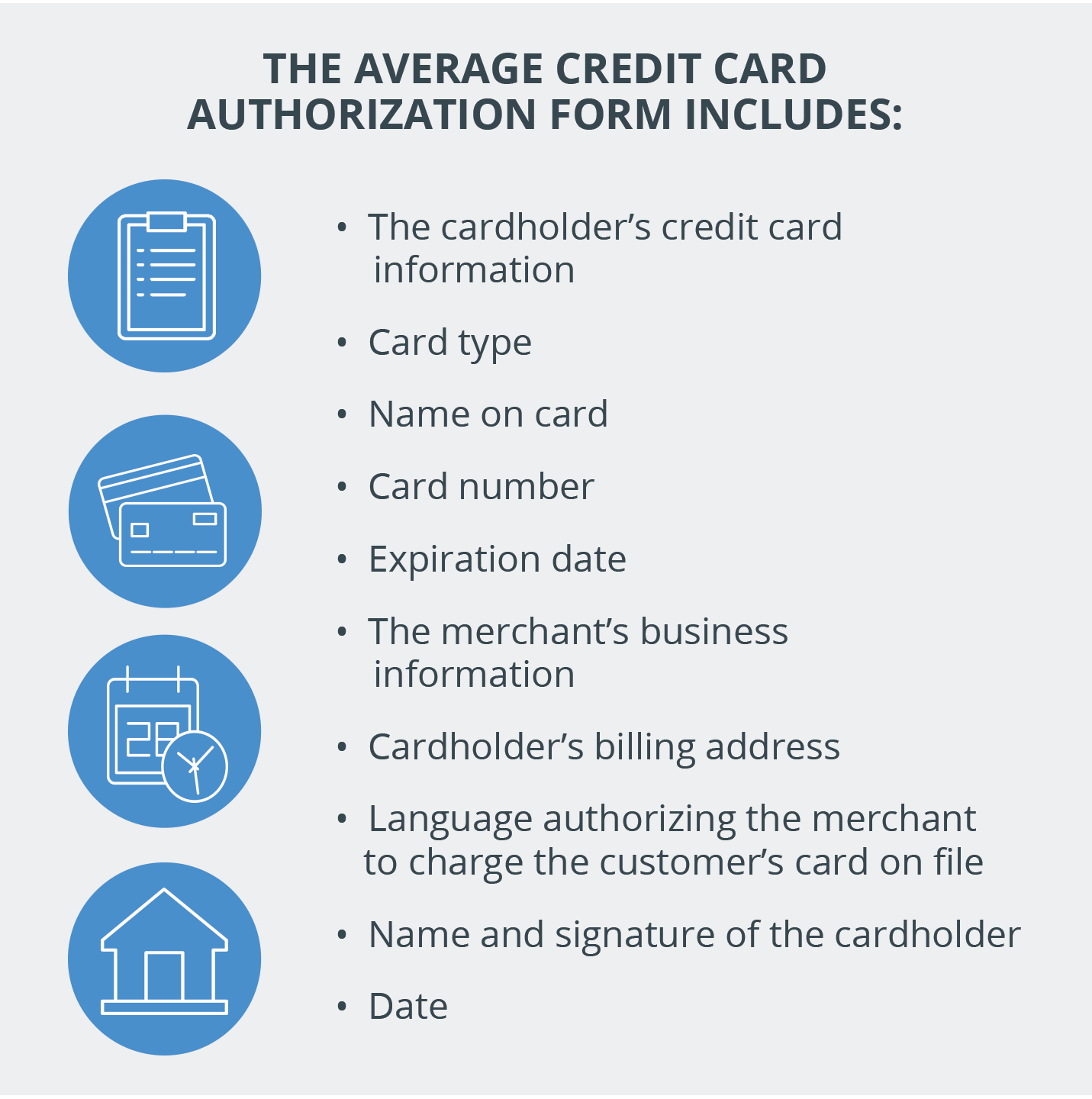 What would a credit card authorization form template include?
The average credit card authorization form includes:
Card type
Name on card
Card number
Expiration date
The merchant's business information
Cardholder's billing address
Language authorizing the merchant to charge the customer's card on file
Name and signature of the cardholder
Date
Housecall Pro: My Money
If you're looking for a solution to managing and controlling your company's cash flow, Housecall Pro has everything you need in one place. Our financial tools help you with every aspect of your business's finances, contractor payment management, invoicing, and bookkeeping.
Payment Processing
Credit card processing
All-in-one: Don't rely on outside card processors, simply use the Housecall Pro app to take payments at the end of a job.
Convenient invoicing: Send invoices via text or email so your customers can pay directly online.
Scan and go: Your mobile card processor means you don't have to plug anything in. Just scan the customer's card to take a payment with your mobile device.
Pricing: 2.9% plus 30 cents per transaction
Processing time: 2 days
InstaPay
Direct: Deposit credit card payments straight into your bank account
Quick turnaround: When Instapay is enabled, you'll have those funds available in thirty minutes or less
Take care of emergencies: Ideal when you need funds immediately to cover unexpected business expenses or just don't want to wait two days
Pricing: Credit card processing fees plus 1.0% of each transaction
Processing time: 30 minutes
ACH
Streamlined: ACH payments allow your customers to pay you straight from their bank account without the need for cash, wire transfers, paper checks, or credit cards.
Quick and reliable: Faster, more dependable than checks.
Save money: Costs less per transaction because there's no credit card processor involved.
Pricing: 1.0% per transaction
Processing time: 7-10 business days
Card on File
Repeat customers: Securely store repeat patrons so that paying is simple.
Sign and go: Once you finish a job, run a customer's card on file, authorize the transaction with a signature, and keep going with your day, uninterrupted.
InstaPay: When you turn on InstaPay with your Card On File transaction, it will be deposited to your bank account in under half an hour.
Quickbooks
One-and-done: With just a single click, you can import your invoice history, price list data, and customer list to Housecall Pro.
Invoicing efficiency: After finishing a job, all invoice line items and charges will be uploaded directly to your QuickBooks Online and QuickBooks account.
Fundbox
There when you need it: When equipment suddenly breaks down or you need to add another vehicle to your fleet, it can be hard to find the money to get what you need.
Short-term lending: Fundbox for small businesses is a short-term credit solution that allows you to quickly access the funds you need, as soon as the next business day, once your company is approved.
No surprises: Pay a simple flat fee.
Expense Cards
Prepaid debit: Prepaid debit cards allow you to stay on top of your budget and gives your field technicians the autonomy to make purchases when they need.
Automated Billing
Convenience: Text or email your invoices when you finish a job. Customers can complete their payments online. Say goodbye to chasing down payments with this simplified solution.
Payment solutions for every small business
Credit card authorization forms are just one part of the bigger financial puzzle you'll have to solve when you're running a small business. Luckily, Housecall Pro is replete with helpful financial tools to help you streamline your business, enhance your workflow, and reduce the amount of time you spend slaving over paperwork. Whether you need the ability to scan customer credit cards while out on the field, send invoices via text, or simply enjoy having payments to your business done in a quick and efficient manner, Housecall Pro offers a comprehensive suite of tools to add to your arsenal and grow your business.
Download our credit card authorization form
Use this free credit card authorization form template for your small business. We've included all the fields you'll need to avoid nonpayment from your customers on each job. Combine this free template with digital payments from Housecall Pro and you're getting paid quicker than ever!