Field service management software and QuickBooks
Welcome to the digital age! You made the leap and bought QuickBooks for your home service business. Or maybe you're considering making the leap.
You're in good company. Intuit's flagship software QuickBooks dominates the accounting software space with a whopping 80% market share.
As a home service provider, you probably don't want to have to learn a bunch of HVAC software to grow your business. You aren't a tech guy, after all — you're a roofer, or a plumber, or an electrician. Instead, you'd rather be on the front lines with your employees fixing a roof or installing plumbing instead of hanging back at the office crunching numbers. So what's the deal with "field service management software?" Is this really necessary? Is QuickBooks not enough? Where does it end?
The truth is, field service management software like Housecall Pro can be a game-changer for home service businesses, allowing you to run your entire business from a laptop computer or even a smartphone.
Moreover, if you get field service management software compatible with QuickBooks Online, the two software platforms can interact so seamlessly that tasks you used to take hours or even days to complete can be accomplished with the tap of a button.
If you're a home service professional and want to start your own business, the "one-two punch" of QuickBooks Online paired with field service management software should be all you need to hang out your shingle.
Keep reading below to learn all about field service management software for QuickBooks, or use the jump links below to navigate to a section that may answer your question.
What is field service management software?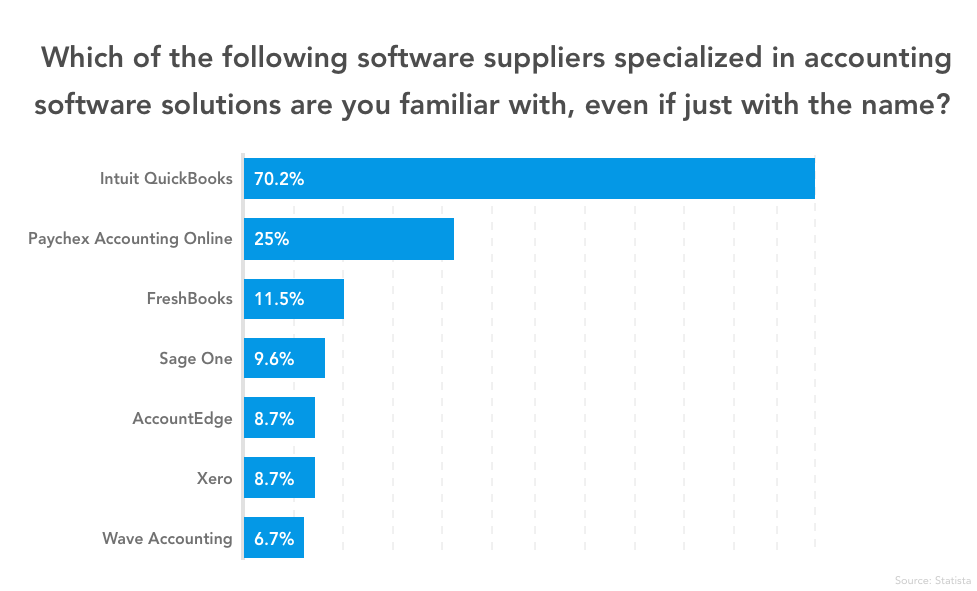 On a basic level, field service management software is designed to perform every function of a business that takes place "in the field," like a home service business. Software designers strive to make these platforms "one-stop shops," so businesses really don't need to buy another application to run their business.
Since QuickBooks is the gold standard of accounting software, most software developers do not attempt to compete by building bookkeeping functions into their software. It would be hard to do it better than Intuit, to say nothing to chip away at that 80% market share.
Rather, the goal is to design field service management software for QuickBooks integration, so the vast majority of companies already using QuickBooks can complete the package, digitize, and automate all business functions.
Field service management might perform most or all of the following functions:
Online job booking
Automatic estimates
Scheduling
Dispatching
Mobile payment processing, including credit card processing
Invoicing
Billing
Contact database
Contract management
Inventory management
Electronic signature capture
Service history tracking
Work order management
Time clock
Imagine being able to do all of this on one smartphone app … and having the relevant financial data dumped directly into your QuickBooks account! That is a home service business worthy of the information age. Great field service management software like Housecall Pro can shave up to ten hours a week of paperwork, coordination, and other busywork from your schedule, allowing you to focus on what you do best—providing excellent home services.
Can I use QuickBooks with my field service management software?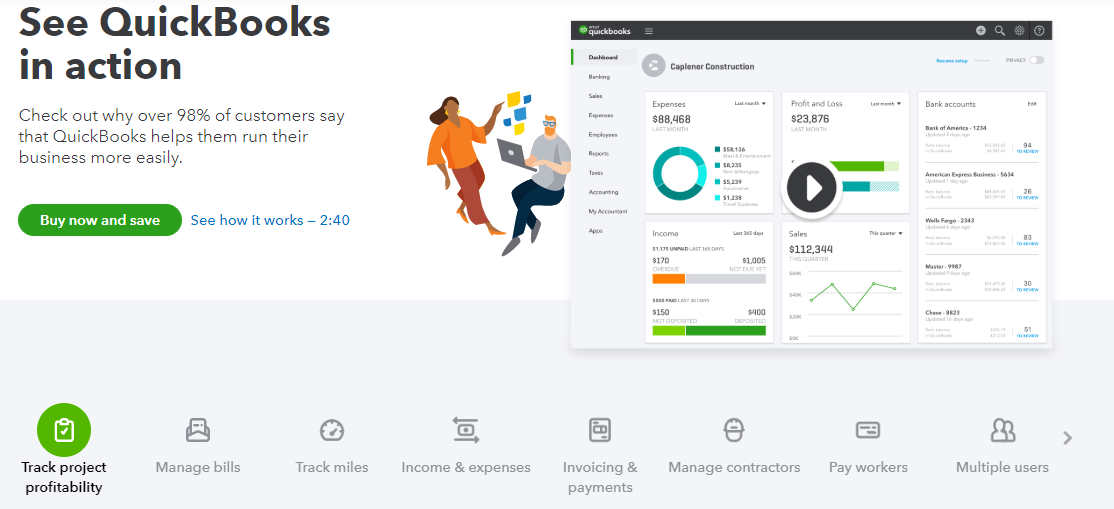 Yes, Housecall Pro's field service management software with QuickBooks integration blends your accounting and bookkeeping needs with your field service management needs. QuickBooks software is designed to offer small business owners the ability to "DIY" their own bookkeeping. It potentially eliminates the need for a third-party bookkeeper or staff accountant that you may not be able to afford. QuickBooks can be a real boon, especially early in the lifetime of a business.
Team members who might need access to your QuickBooks platform include your accountant, bookkeeper, or CPA (if your team even includes any of those specialists).
QuickBooks is available in several versions, some of them confined to the computer desktop. QuickBooks Online puts your accounting functions in the cloud, accessible anywhere and especially easy to pair with a cloud-based field service management software platform.
Here's a list of features QuickBooks can bring to your business:
Connect to credit card and bank accounts
Track and categorize income and expenses
Track and categorize Schedule C tax deductions and expenses
Calculate quarterly taxes
Mileage tracking for miles driven
Accounts Payable and Accounts Receivable
Payroll
Billing and Invoicing
Financial reporting
Here's what QuickBooks can't do.
The holy grail of effective home service business management is a comprehensive, easy-to-use field service management software that can connect to QuickBooks Online and send invoicing and payment data right to QuickBooks.
How does QuickBooks come in handy at tax time?
QuickBooks quickly and easily generates IRS-compliant financial reports to substantiate the data on your return.
Intuit also offers the industry-leading DIY tax return software TurboTax, which allows you to:
calculate your quarterly tax deposits
prepare your return and file it online without the help of a traditional CPA, accountant, or tax preparation specialist.
As you might expect, TurboTax is designed to interact seamlessly with QuickBooks, making tax-filing extremely easy for newer businesses with less complicated returns. Some QuickBooks packages are available with a "tax bundle" that includes TurboTax.
The benefits of having an accountant who uses QuickBooks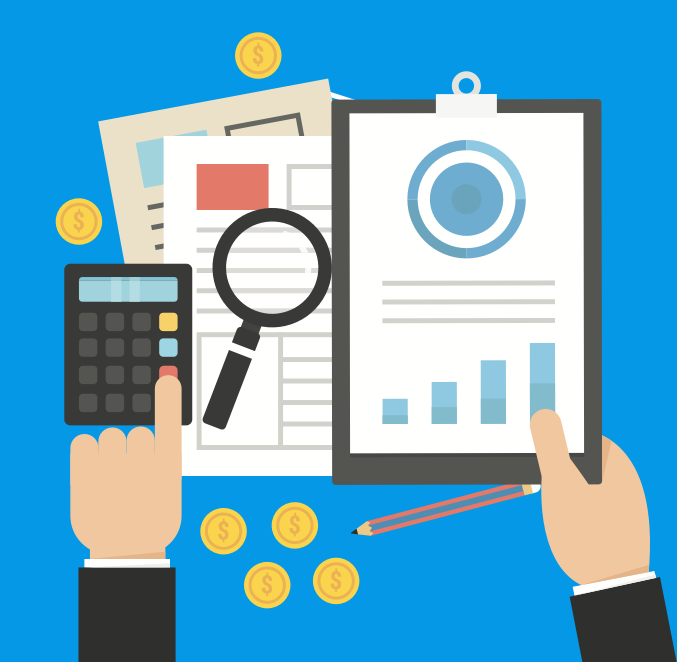 Even if you rely on a CPA or accountant to do your taxes instead of DIY (and there are good reasons to do this), QuickBooks may still be an important part of your bookkeeping strategy.
Because QuickBooks gobbles up so much market share, accountants and CPAs have adopted it with a vengeance. QuickBooks Online Accountant is marketed to CPAs with the functionality for:
client file management
secure document sharing
workflow coordination
expert support
app productivity
online corporate return filing
You can be pretty confident that by selecting QuickBooks, you are selecting software that your accountant can easily interact with.
By selecting a CPA or accountant who uses QuickBooks, your own QuickBooks reports make it even easier for him or her to prepare your return.
QuickBooks field service management
When you choose a field service management program that integrates with QuickBooks Online and QuickBooks Desktop, bookkeeping becomes even easier.
QuickBooks will form an essential backbone of your business accounting, but you will spend more time in the field service management software.
The two applications talk to each other over the cloud, exchanging essential information automatically without you having to perform any extra steps and freeing you up to actually do your job.
Consider the following functions your field service management software, such as Housecall Pro, can perform:
Billing
Invoicing
Payment processing
Time clock
Each of these functions has a place in your books—accounts receivable, revenue, payroll, etc. With QuickBooks Online and QuickBooks Desktop field service management integration, each transaction goes to the appropriate place, saving you steps and automating your bookkeeping process.
The integration works both ways. Housecall Pro offers "one-click integration" with QuickBooks. Although QuickBooks is not a customer relationship management (CRM) platform, your customers' data is properly stored there, along with your job history and custom price lists. With the tap of a button, all of this data can be imported into Housecall Pro and integrated into the CRM system.
If your business is big enough to need the extra functions of the desktop versions of QuickBooks, you probably have a bookkeeper anyway. When considering QuickBooks Online vs. Desktop, think of your company's needs and the functions you require to ensure you can easily streamline your business operations.
If you want to take your business fully digital, it isn't that hard to transition. Check out this article to learn how to prepare your QuickBooks desktop data for QuickBooks online.
Other functions your field service management software can perform
Here are some more functions a powerful field service management platform can provide that QuickBooks cannot. Whereas your accounting team may need access to your QuickBooks platform, your technicians or marketing team may have gated access to your field service management software for any of the following tasks:
Calendar and scheduling
A good field service management application like Housecall Pro or other essential plumbing apps will replace any calendar system you were using before. It is specifically designed as a hub for job scheduling and dispatch. Look for dynamic drag-and-drop functions that allow you to easily:
create jobs
assign employees or teams
dispatch technicians
set arrival windows
arrange recurring jobs
You can also use Housecall Pro to keep track of your technicians and job status with GPS tracking and real-time progress updates.
Customer relationship management
CRM software gives you mobile access to everything you need to know about your customers. Right from your phone you can:
assign customers custom tags
add attachments and/or notes to customer profiles
easily manage multiple addresses
access customer billing history
Automated marketing campaigns
If you find marketing activities frustrating and time-consuming, field service management software can relieve much of that burden. Housecall Pro comes equipped with several "set-it-and-forget-it" marketing automation tools, including:
customizable email campaigns
one-click postcard campaigns at industry-best rates
Key takeaways on field service management software compatible with QuickBooks
Home service businesses of all sizes are discovering the power of digital field service management that pairs with bookkeeping software. By getting your cloud architecture right, your job becomes ten times easier, freeing up time and brainpower to grow your business and enjoy the fruits of your labor! Field service management software with QuickBooks integration, such as Housecall Pro, allows you to streamline your business operations onto one platform for easy accessibility and organization.
Find out why online booking is important for your home services business
To build a business, you have to get the business. Online booking is proven to be a major advanctage in helping businesses manage their time more effectively, increase jobs, and build trust with their customers. Download this ebook and discover if you are holding yourself back by not having a website that lets customers book you on their time.