Facebook Ads Help Increase Visibility For Your Local Business
Finding new customers is a lot different today than it was 30 years ago. Yellow pages ads are long gone, and you probably won't have much luck with exclusively printed flyers. In 2018, 97% of consumers surveyed said they had searched online for a local business. Organic search inquires are great if you can get them, but earning the top spot on Google for your local market could take years.
Creating a business page on Facebook for your plumbing business, will enable you to create ads that can be implemented quickly and earn you a few leads within days. New to Facebook advertising? You don't have to be a marketing whiz kid to create and implement these types of ads. 
Home services professionals like plumbers can learn the system and generate some online buzz. Here's what you need to know.
1. What Does a Good Ad Do?
What Does a Good Ad Do?
You can replace a flapper valve with your eyes closed, but you don't know your banner ads from your instant articles. That's OK. Anyone can learn more about ads when they start with the foundational principles. Let's begin with what a good ad does before we get into how you place one. Good plumbing Facebook ads should help you:
1. Find the Right People
Your instinct might be to spread your advertisement far and wide, but this isn't usually the best plan. Especially if you run a local business. What good is it to you if someone 100 miles away sees your ad? They're probably not going to call you the next time their sink leaks or they need to replace their hot water line. A good plumbing ad would reach homeowners and landlords in your vicinity.
2. Convey Company Values
Let people know what you're about right away. An ad is your first chance to build some trust. Do you offer free estimates? Do you guarantee your services? Leading with your company's core values can go a long way.
3. Deliver New Leads
Building some brand awareness is a good enough reason to consider a Facebook ad campaign. But a great ad will do more than get your name out there — you'll get some meaningful leads. Link the ad to your Contact Us page or use a lead form (more on that in a bit) so people can communicate with you swiftly and you can add them to your customer database.
4. Have Strong ROI
One great thing about Facebook ads is the the ability to track analytics. You can see how much engagement it's getting, how many referrals have been sent to your website, and other metrics.
How to Create an Appealing Plumbing Facebook Ad
People see a lot of ads when they're scrolling through Facebook. Yours has to be good enough to make them stop and pay attention. Here are some best practices for creating a plumbing ad that gets results.
1. Solve a Customer's Problem
As HubSpot points out, one of the most important principles for creating a solid ad is that it should solve your audience's problem. You want to keep the focus on the potential benefit to the customer, not just bragging about your company. And you want to bear in mind that most people don't head to Facebook when they have a plumbing emergency. You'll nab those leads using Google Ads.
For Facebook, the goal is to find people who want general information about plumbing or bathroom restorations. This allows you to follow up with useful blogs or newsletters so you stay top of mind when they have an emergency in the future.
Some examples:
OK ad copy: Anderson Family Plumbing: Have a leaky pipe? We have 30 years of experience fixing bathrooms! [Link to homepage]
Better ad copy: Thinking about getting a new garbage disposal? Here are 3 things most people don't tell you. [Link to related blog post]
The first ad copy can help build trust in your expertise, but it doesn't really give people much incentive to click. The second example speaks to a specific problem your customer might have a question about, and let's them know you're going to be their resource on this topic.
2. Be Visually Interesting
Ads and posts with visuals are more likely to be remembered. In fact, when someone hears information, they'll only remember about 10% of it three days later. If they read it paired with a relevant image, they can remember up to 65% of the information. HubSpot points to this NatureBox ad as a good example of visual content. The colors are eye-catching and the text tells customers exactly what they'll get.
For plumbers, we also like before and after photos. Anyone interested in a bathroom or kitchen renovation is more likely to stop for images than simple text saying "Looking to renovate your home?" This Sterling Plumbing ad taps into the visual strategy while also offering affordability, a major benefit to customers.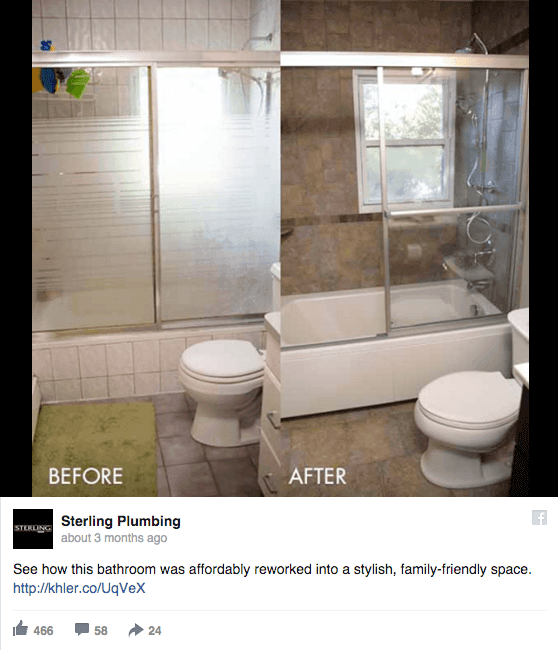 3. Offer a Clear Call to Action
Customers should know what you want them to do next. Click to find out why their toilet might be wasting water? Go to your website to get a discount code for their next service call? Customers who are confused won't follow through. Make sure your ad includes at least one action word or phrase, such as "Click," "Go to," or "Fill out."
Types of Facebook Ads
Now, on to the different types of ads. There are 11 different types of plumbing Facebook ad formats, and we've outlined the four most likely to be relevant to your needs/interests.
1. Image
As we already mentioned, visual ads tend to get more attention and engagement. A clickable image coupled paired with a few lines of text is easy to create and can have a big impact. Facebook recommends a photo ad for when you're creating an ad leading back to your website, and/or need to create an ad quickly. It's not the right choice if you don't have a compelling image to share — using a low quality image could actually backfire.
2. Offers
As a small local business, you may also want to consider offer ads. These get the attention of people who may not have been considering contacting a plumber, but are open to the suggestion if the discount is right. Offer ads are great for boosting sales and finding new customers.
The downside is you'll need to create a system for customers to cash in the offer. Will they show their plumber the Facebook ad? Do they need to use a certain code? These specifics aren't too tough to figure out but they do require some extra planning.
3. Page Post Engagement
If you have a Facebook Page but don't get much traction, post engagement ads might be worth a shot. You can "boost" most Facebook Page ads so they show up elsewhere on the site and lure new people to your business page. If your goal is to build your Facebook following, this is the best option. "Liking" your official Facebook Page is easy from within the ad.
You can also run an entire engagement campaign that is specifically aimed at earning more interactions on your posts. These campaigns let you do A/B (or split) testing to learn what your customers most respond to. Then take those learnings and make smarter ads moving forward to increase engagement.
4. Lead Forms
When you want to build your lead database, you can get right to the point with a lead generation ad. Below, you'll see an example of a Facebook lead form. You can link these to your ad, letting customers send you their info without leaving the platform. In this example (via Blue Corona), the plumber has made it clear that the next step toward getting a free furnace is to sign up via the provided contact form.
Where to Place Ads
You can't get micro-specific about where your ads are displayed. For instance, you won't be able to request that they only show up in Facebook Groups. However, that doesn't mean you have no say whatsoever. There are several main options for Facebook ad placements.
1. Feed
When you're scrolling your main Facebook feed and notice a "Sponsored post," you're viewing a feed ad. These ads can be effective when they're targeted to the right people. These ads will show up on both mobile apps and desktop computers.
2. Stories
Since Facebook acquired Instagram, users can now show temporary photos in their "Stories." Story ads take up the full screen on mobile and show momentarily in between images.
3. Messenger
If you have connected with someone on Messenger, you can also send them a sponsored message. Perhaps someone reached out to you asking about your available services, and you want to follow up in a month with a discount offer.
4. Right Column
You can also post ads on the right column of Facebook. These ads don't interrupt users' feeds, so they may be less irritating. They are also limited to desktop use, so you won't be able to reach mobile Facebook users.
Facebook Ads Manager: A Word on Targeting
You need to figure out who your audience is. If you're sending an ad for your local company to a national audience, you're wasting money! As you can see below, your Audience Insights page in Facebook Ads Manager gives you a lot of control over who sees your ads. You can access this information by choosing "Audience Insights" from the drop-down menu in the upper left corner of the screen.
The first thing you'll do is choose whether you want to expand your audience to everyone on Facebook or just people connected with your page. Even if you choose "everyone," you can still limit the pool later.
Then, you can get more specific about the age, gender, interests, geographical location, and other data about the people you want to target with your ads. If you know most of your customers are married women between the ages of 27-65, you can ask Facebook to show your ads to people who identify within that group on Facebook.
To create a brand new campaign, go back to the homepage of Ads Manager and click the green "Create" button in the "Campaigns" tab. From there, you can choose to be guided step-by-step through the process of making and publishing plumbing Facebook ads.
How Much Should You Spend on Facebook Ads?
Facebook ads are on the lower end of the cost spectrum. Compared to competitive Google Ads or other third-party services, you may be pleased with what you can get for your budget. As a local business, you don't have thousands of dollars to spend each month on outreach. Here are the basics about Facebook spending.
The average Facebook ad CPC (cost per click, or cost each time someone clicks on your ad) in the home improvement industry was $2.93 in 2018. That means you'll probably have to spend almost $3 for every click. However, remember that those are only averages and if you target your ads very precisely your cost could go down. The average CPC for all businesses at the end 2017 was just $0.50 per click.
You can also choose to be charged per impression, or each time someone sees your ad come up in their feed. Impressions are charged per group of 1,000.
The minimum budget required is $5/day for cost per click campaigns and $1/day for cost per impression campaigns. You can see below that when we go to set up a new hypothetical campaign, the recommended daily budget is $55, but you can adjust it as needed.
When you're just starting out, try a small daily limit and see what type of results you get. You can always increase your spending by a few dollars or suspend your ads whenever you want.
You can also ask Facebook to do an auto-bid, which will seek the lowest possible cost for your ad placement. If you're competing against a lot of other plumbers in your area, the cost may go up. Why? Facebook won't spam users with 10 plumbing ads. If a person is a good fit for your type of advertisement, Facebook will serve them the relevant ad with the highest CPC bid. This is another reason specific targeting is key — you'll be competing against fewer rivals.
Creating plumbing Facebook ads is not as overwhelming as you might think. Once you get a few ads created, you can go into maintenance and monitoring mode and post a new lead form periodically.
Once you've earned new customers, keep things streamlined with Housecall Pro scheduling, invoicing, and more. Our plumbing software is an all-in-one suite that makes keeping customers happy much easier. Contact us today for a free demo!