Ferguson Enterprises Competitors
Ferguson Enterprises is the biggest plumbing supply company in America. If you're a plumber, you've probably heard their name. However, they're not the only company that can assist your business and get you the essential products you need for a job well done. As a plumber, you're a lot more than just your tools and supplies but quality repairs made with quality parts make a huge difference, especially when it comes to the satisfaction of your customers. Plumbing industry trends are always changing, which makes it even more important to find the right supplier that can keep up with the times.
Below, we've compiled a list of Ferguson Enterprises competitors so you can get an idea of what the plumbing supply landscape looks like and what supplier might be right for you and your business.
Ferguson Enterprises is not only the biggest wholesale supply company for commercial and residential plumbing supplies, it's also one of the oldest. The company has existed for more than 65 years. Originally a local distributor, it's now a $16.7 billion dollar company with over 1,400 locations and over 27,000 associates across the country. As you can imagine, it dominates the plumbing supply landscape with its robust distribution centers, large employee volume, and high revenue numbers.
One of the main benefits of Ferguson is their Pro Pick-Up service. Professionals in the trade services can create a Ferguson account and either order their necessary supplies over the phone or online. In some locations, your Pro Pick-Up order is ready for you in as little as one hour.
Business owners know that every minute counts – especially when you're making an emergency repair for a customer. Short waiting times means happier customers.
You can learn more about Ferguson on their website and check out their range of available products, services, and locations.
Facts:
Largest U.S. distributor of plumbing supplies
Third largest distributor of industrial and HVAC supplies
Company size:
$16.7 billion in sales
27,000 associates
1,400 locations
10 distribution centers
Distributes:
Commercial and residential plumbing supplies and products
Pipes, valves, and fittings
HVAC equipment
Waterworks
Industrial and mechanical products
Fire protection products
Kitchen, bath, lighting, and appliances
Tools and safety equipment
Maintenance, repair and operations products
Johnstone Supply is a major distributor of HVAC equipment, HVAC/R parts, motors, and refrigeration. It is a one-stop shop if your company is involved in any type of residential, light commercial, refrigeration, and facilities maintenance.
With 425+ locations across America and Canada, you can order easily from the website or even from the Johnstone Supply app. Through the app or website, you can send in a request while out in the field on a job or place your weekly inventory order. The app is free and available for both iOS and Android. You can also stop into the physical store for a part for an emergency repair or to pick up supplies.
On the Johnstone Supply website, you can upload lists, see your order history, filter your searches, download SDS sheets, and get real-time pricing and availability. This is a boon to small business owners who want to the most of their time and need an easy-to-use ordering system.
For high-volume customers, Johnstone Supply has both purchasing and invoicing programs for those that want to optimize their inventory. Ordering online can be customized to fit into your technicians' needs with buying programs and punch-out solutions.
Facts
75,000 Johnstone products online
32,000+ from the annual print and online catalog
Access to more than a million special order parts through business partnerships with other manufacturers
Size
Distributes
Specialty equipment
Repair and replacement parts
Maintenance supplies for the following sectors:
Residential
Light commercial
Refrigeration
Facilities maintenance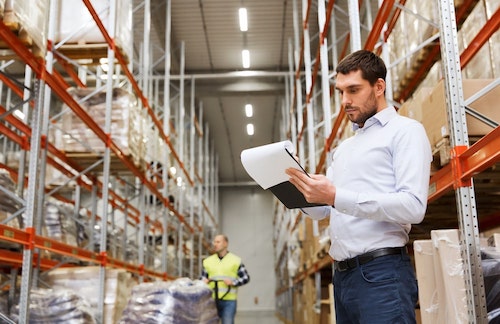 Supply.com was born out of the dreams of three businessmen who thought up the idea to sell toilets online. Out of this idea, Performance Toilets was launched in 2003 and grew into a plumbing parts e-commerce store called National Builder Supply. Today, the company is now known as Supply.com and its broader title change reflects its huge inventory.
With commercial supplies, water heaters, plumbing, valves, fittings, and toilets – Supply.com certainly lives up to its name. As an authorized dealer for big names like Delta, Moen, Kohler, and American Standard, trade professionals can trust this site for manufacturer-true parts and products.
If you sign up for a PRO account on Supply.com, you receive a dedicated account manager, same-day shipping, and access to online tools to help you grow your business. As a PRO member, you'll have over 300,000 products available at your fingertips on the Supply.com online catalog. Plus, when your orders ship, you'll get email updates so you know exactly when your parts are arriving and their progress to your front door. And, all orders over $100 qualify for free shipping – and as any small business owner knows, those shipping costs add up quickly.
Facts
Established in 2003 as a toilet company
Industry's #1 rank in customer service
PRO pricing enables trade professionals discounts on supplies
Company size
Fully online
100+ employees
Distributes
Toilets, faucets, sinks, tubs, lighting, fans, valves, fittings, pipes, and many other products associated with both commercial and residential use
Keller Supply was founded in 1945 from a 600 square foot warehouse loft and has evolved into a company with 70 branch locations. Today, it's a leading wholesaler of plumbing, HVAC, and pool and spa products. Keller splits its operation between plumbing contractors and retailers for its wholesale products.
Keller grants small business owners the ability to remotely check a part's availability as well as the current price. You can also conveniently order everything you need for a job or project online. Orders will be dropped off by the Keller truck fleet and professional delivery personnel.
Using Keller Supply as your wholesaler gives you access to drop shipment programs, price and inventory checks among Keller branches, sales, promotions from manufacturers, and a huge range of products and services.
Facts
Established in 1945
Distributor of Kohler products since 1951
Company size
Distributes
Products and supplies for the following sectors:
Residential plumbing
Commercial plumbing
Leisure supply
Heating and air conditioning
Hydronics
Fire protection
Headquartered in Lebanon, Pennsylvania, APR Supply is a wholesaler and distributor of plumbing, heating, and cooling supplies. This storied supplier can trace its history all the way back to 1922. Two companies merged together in 1982 – Lebanon Plumbing Supply Co. and Environmental Engineering Co. – to form APR Supply.
In 1996, APR Supply Co. became an early pioneer of web order entries. The company continued to grow, leveraging its software to outpace competitors. APR has continued to take advantage of technology in the modern era, with GPS tracking, document imaging, and remote network access.
APR is also part of the Affiliated-Distributors buying group which has $28 billion purchasing power collectively and 450 members. For customers and trade service pros, this means lower prices on a wider selection of supplies, parts, and products.
Facts
Founded in 1922 as Lebanon Plumbing Supply Co.
APR Supply created in 1982
Order accuracy rate of 99.7%
Company Size
Distributes
Pipes, valves, fittings
HVAC supplies
Hydronic supplies
Plumbing parts, supplies, and equipment
Tools and industrial cleaning products
Provides supplies for both residential and commercial sectors
5. Big Box Stores
You may be wondering about Ferguson Enterprises vs Home Depot and Lowes in terms of materials, services offered, and other features. Both Home Depot and Lowes have buying programs, bulk ordering processes, and discounts available for trade service professionals, but they're not wholesale suppliers. With that said, big box stores may still be a good option for pros.
The Home Depot
With Home Depot's Pro Desk, you can get bulk pricing on over 4,000 products including drywall, plywood, mortar, paint tools, and insulation (among tons of other supplies). As a pro member, you can expect 15% to 30% off in terms of discounts. Using Home Depot's Pro Desk may be advantageous for painters and other technicians looking for rewards on their purchases.
Lowes
For Lowes' Pro Desk program, members will enjoy 5%-50% off from over 2,000 products. Lowe's Pro Desk is a great choice for contractors and subcontractors who want to earn money back on their daily purchases. Both Home Depot and Lowe's Pro programs are free of charge, so it might be helpful to join both to get the most out of both big box stores.
Takeaways
The supplier you choose for your home service business depends on the particular needs for your company, they're not necessarily a one-size-fits-all solution. For example, larger suppliers will likely offer a wider array of products while smaller companies may offer more personalized customer service. In addition, some suppliers offer business solutions like weekly inventory ordering and pricing lists for bulk orders. You'll have to sit down and compare to find your perfect fit.
However, if you are looking for a one-size-fits-all tool, why not try Housecall Pro, the ultimate software to streamline your plumbing business?
Housecall Pro is a small business management software perfect for company owners who are looking for ways to enhance their workflow.
The Housecall Pro app acts as a dashboard for your entire business so you can manage and control all aspects of your company. Before the job, you'll have intuitive tools to manage service appointments, give your customers the opportunity to book you online, and create estimates and invoices on the go.
While you're on your way to a job, you can easily dispatch employees, send out on-my-way texts, and see a live map GPS of where your closest technicians are located. And after the job is finished, take advantage of follow-up emails, postcards, and other plumbing marketing ideas. With the right tools at your disposal, you'll be able to save time, make money, and optimize your business workflow.
---