New technology, such as artificial intelligence and virtual reality, is changing the heating and air conditioning industry in every way. To keep up, HVAC professionals need to understand how customers are using this new technology to monitor their energy usage and plan equipment maintenance. Here are six technology trends that are impacting HVAC companies.
Our top-6 HVAC technologies and innovations:
1. New sustainable homes use alternative heating and cooling options
New, eco-friendly buildings are being designed to use minimal energy to heat and cool the property. According to Grainger, green building strategies go beyond sealing and insulation and even energy-star appliances.
For instance, builders are rethinking ventilation systems to use more natural airflow, and specialized building materials provide a more constant building temperature which reduces the need for high-powered HVAC systems. New HVAC technologies such as solar solutions and geothermal heat pumps are becoming more cost-effective options. Here are some examples.
Ice Air
Ice Air is a company based out of Glendale, CA, that is introducing new HVAC technology to the market. Its product, Ice Bear, is an air conditioning unit that's powered by ice; it freezes 450 gallons of water in a tank overnight during the "Ice Charging" mode. When switched to "Ice Cooling" mode during the day, it provides cool air conditioning for up to 6 hours, at which point the A/C reverts back to the building's conventional unit. When it's used in conjunction with standard units, the Ice Bear reduces total net energy consumption.
Dual Fuel Heat Pump
This HVAC technology combines an electric heat pump and full-sized gas furnace into one package. As ARS Rescue Rooter points out , this heating system can be a great choice for homeowners who live in regions of the country with low electricity rates and moderate climates that rarely drop below freezing. Most of the time, when temperatures are above 35-degrees, the electric heat pump will warm the home. However, at sub-freezing temperatures, the pump will switch to gas in order to more efficiently warm the home.
2. Smart thermostats connect to home monitoring services
In a recent survey by Emerson Commercial and Residential Solutions, the ventilation system market is expected to reach nearly $23 billion by 2026. Wi-Fi-enabled programmable devices do more than just pre-set a temperature. Consumers search for products that can connect to other smart home systems, such as Samsung SmartThings or Amazon Echo.
Integrate smart thermostats with other home systems
Smart home systems allow homeowners to integrate their HVAC technology with the other functions throughout the home. For example, a customer with a Nest Thermostat would be able to use the Amazon Alexa to change the temperature with their voice by saying, "Alexa, set the living room to 72-degrees." However, if they were to also install compatible Phillips Hue lights with the Nest, the HVAC technology could detect when they were away from the home and automatically turn off any lights that were accidentally left on in order to save energy.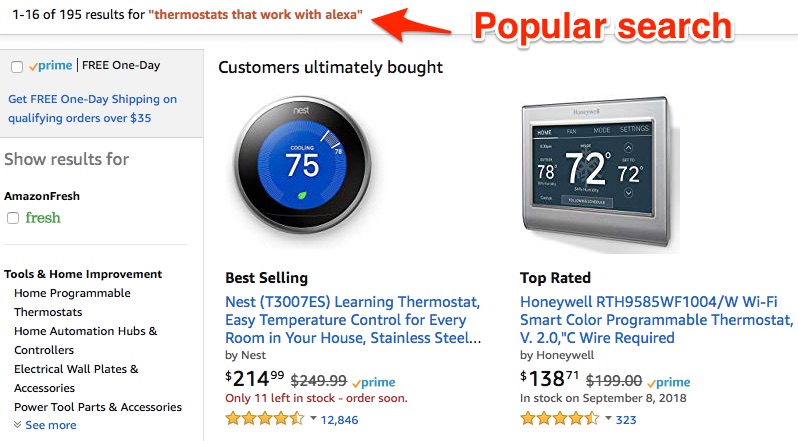 3. Smart systems increase preventive maintenance
Smart HVAC systems predict when maintenance is needed before there's a real issue. This new technology trend can change your relationship with your customers from someone they call in an emergency to someone they reach out to for regularly scheduled check-ups.
New HVAC technologies which use an Internet of Things (IoT) system are embedded with sensors, software, and connectivity that enables the HVAC system to exchange data with other connected devices. New and affordable Internet of Things HVAC technology makes it significantly easier to gain insight across a range of equipment. Gain insight into equipment such as:
Rooftop air-handling units (RTU)
Air-handling units (AHU)
Make-up air units (MAU)
Variable air volume (VAV) with reheat systems
Boilers
Cooling towers
Air- and water-cooled heat pumps
Remote Monitoring
While preventive maintenance might cut down on emergency house calls, the new HVAC technology in smart systems opens up new avenues to provide service and expertise to your customers. It's becoming more common for residential and commercial customers to have systems designed for remote monitoring.
Even slight deviations from a manufacturer's specification can lead to a large increase in energy consumption. The HVAC innovations with remote monitoring and diagnostics minimize power waste by ensuring units operate at their peak efficiency.
4. Customers expect tech-savvy services and technicians
Customers expect HVAC scheduling software for contractors and contractor invoice software so that services are easy to book and easy to pay, with more information about their work order readily available in one place.
Using mobile technology
This works out well for the 78 percent of service professionals already using mobile apps on the job, which are available within the Housecall Pro features. According to the same study, 92 percent of technicians reported that their productivity increased using mobile technology.
Samm's Heating and Air Conditioning owner Paul Sammataro explains how his technicians often demo smart-home automation to their customers using their own cell-phones and tablets. Demonstrating your proficiency with the latest HVAC technology shows customers that you're an expert in your field.
5. Virtual reality (VR) training for HVAC professionals
Virtual reality HVAC technology is becoming a cost-effective way to train new employees or current staff on new equipment or working on advanced certifications. For instance, Tauris McBride, founder of Tauris Tech, uses VR training to prepare his students for the New York City Refrigeration license exam. Check out his training simulator on Youtube.
Using Housecall Pro
Equipment and business software will continue to evolve as new HVAC technology gains momentum. Housecall Pro HVAC software helps business owners keep up with technology with unique automated payment and service agreement features.
6. Win more jobs with customer financing
In an industry where a job can easily cost thousands of dollars, many homeowners may worry about the impact on their wallets. And who could blame them? If your customer doesn't want to pay for everything all at once, you can offer consumer financing as another payment method to let them pay over time.
Splitting the cost of a job into smaller monthly payments makes it more affordable and creates a win-win situation for you and your customer. Your customer gets to select their ideal service, and you get to win another job. You'll get paid in full as soon as the job is complete!
Using Housecall Pro
Integrated consumer financing with Housecall Pro enables HVAC business owners to automatically offer financing on any job between $5,000 and $25,000, whether they be installations, maintenance, repairs, or more. Customers can prequalify to see how much they can borrow before applying, and the application can be done from their mobile device. Applying and getting a decision only takes a couple of minutes.
Offering consumer financing with Housecall Pro, powered by Wisetack, has helped home service professionals win more jobs and avoid extra paperwork.
"Since switching to Wisetack, our sales are better and we do more work. It's easy for the guys to offer financing because they don't have to worry about doing paperwork," said Patty of Beehive Plumbing.