Whether customers want to buy the latest tech, dine at the finest local restaurant, or find a plumber to fix a leaky faucet fast, they'll most likely check reviews before purchasing, ordering, or contracting.
In fact, one out of three customers reported a three-star or lower rating would dissuade them from patronizing a business. This places immense pressure on businesses to not only satisfy their customers but to delight them as well.
If you own and operate an established business or are just getting started, Yelp is a platform that can help customers provide valuable feedback and for prospective customers to find you. In this ultimate guide to Yelp for businesses, we detail how to get started, the intricacies of the platform including free and paid tools, and tips for managing your business.
The Ultimate Guide To Yelp For Business Owners
Why Yelp Is Essential For Your Business
As of March 2019, more than 184 million reviews have been posted to Yelp. These reviews run the gamut of industries and businesses from dentists and restaurants to plumbers and electricians. 32% of all reviews are below four stars.
Yelp's mobile app has 35 million monthly active users (MAUs), average monthly mobile web traffic of 69 million unique visitors, and average monthly desktop traffic of 63 million unique visitors.
16% of all Yelp reviews are for businesses in the home and local services industry, making it the third most reviewed category behind retail and restaurants.
66% of Yelp users are over the age of 35 and predominantly educated. In fact, 81% of users have a college level education or higher. The user base also comprises top earners, with 74% earning $60,000 or more annually.
As you can see, Yelp is an important medium for connecting your business to new or existing customers. In this guide, we cover how to get started on Yelp and how to build your presence through best practices in customer service, advertising, and more.
Create (or Claim) Your Yelp Business Page
If your business has an existing Yelp business page, you should find it in the search results under "business name." If you can't claim your business page, it could have already been claimed (erroneously) or the page was recently submitted and still pending approval by moderators.
If your business has never submitted a page of its own, select "Add Now."
You'll then be prompted to provide more details about your business—first, the categories your business serves. This input field makes suggestions based on what you type, which can make it easy to find the appropriate category for your business.
You'll also be asked to provide details such as your business name, website address, physical address, phone number, and email address. NAP consistency, or promoting the same business name, address, and phone number across all directories can help build brand recognition and trust.
Yelp Business Profile
According to Yelp, businesses with complete profiles receive, on average, five times more customer leads per month. This is why Yelp emphasizes the business profile within the onboarding process. You'll even see a progress bar towards a completed profile and the "business visibility" that accompanies your finished Yelp page.
Having a complete profile is important, but not as much as having an accurate profile. Keeping everything up-to-date and staying active on the platform will increase your chances of finding success using Yelp for business
Hours of Operation
Since many prospective customers use Yelp to discover new businesses, your hours of operation are one of the first questions to answer. You can select when you open, when you close, whether your business operates 24 hours per day, or if you're closed on a certain day.
Value Proposition
Yelp will then ask what your business specializes in. In other words, what's your unique selling proposition (USP)? It could be a product, feature, or service that differentiates you from the competition. Perhaps you're the only company in town that handles both plumbing and HVAC repair or your restaurant has a unique fusion of Korean and Italian cuisine.
Business History
Whether your business has been operating for a year or in the family for generations, you can provide the year of incorporation and a brief description of the business's history. In this field, you can highlight the founder's story, the company's dedication to customer service, or a long-held value such as integrity or accountability.
Leadership Team
If you are the business owner or manager, this is the place to add a short bio. Input your first name and last initial—which will be used publicly when you reply to customer feedback—your role in the business (owner or manager), and a short bio. Yelp encourages you to include your inspiration for starting the business, what makes you uniquely qualified to operate in this industry, and why you are excited to run the business.
Upload Business Photos
According to Yelp, users spend twice as much time on a business' profile if it has photos. Highlighting examples of your work is effective for customers to visualize the impact your business can have on their lives. If your business provides garage door installation and repair, you should include photos from some of your most visually appealing job sites. Or if you're a new business without a gallery of work, you can include pictures of your team, offices, trucks, or other distinguishing aspects of your business.
Service Area
An important piece of information for field service workers to complete is the total service area. Stating whether you're willing to commute to other zip codes, cities, counties or more will help customers discover businesses in their area that can help solve their problem quickly.
You will want to be realistic with your service area if your team isn't physically capable of managing such a large area, so keep your service area selection within reason.
Account Settings
Ensuring your account information is accurate and up-to-date is essential. The settings page is more than just to update your password from "password123" to something slightly more secure. This is an essential dashboard for managing your business.
You can start with a professional headshot.
Upload a Headshot
Your account photo is meant to represent you as the owner or manager of the business. You've already uploaded photos of your business. This is the place to upload a photo of you.
Yelp recommends the photo be of you—not a general picture of your work, office, truck, or anything else. You should be the subject of the photo.
Email Notifications
There are some very important checkboxes on this page. If you uncheck some of them, you'll likely miss feedback from your customers, updates to your business listing, customer questions about your business, and more.
You have the option to block all emails, but unless you're managing your Yelp business page every day (hint: you should be), email notifications are a great alert system for high-priority events regarding your business on Yelp.
You can also choose from 42 language preferences for your email notifications.
Additional Options
There are a few other administrative tasks that can be done on the account settings page. If your business has multiple locations, you can add them individually or in bulk. You can grant account access to another team member or even release access in the event your business is acquired.
You can also download a copy of your Yelp data for further analysis.
Activity Overview
When you first create a Yelp business account, your overview tab will show a template for where the customer activity dashboard will be populated with data. When you become more established on Yelp, the "Overview" becomes "Activity."
From this view, you can monitor your reach, page views, and leads. You can also analyze recent activity by real users and insights about your overall audience.
User Views
When analyzing User Views, otherwise referred to as your "Reach," you can see the number of impressions your listing has had on Yelp's website, mobile site, or mobile app.
You can also see the percentage increase or decrease of traffic your business has experienced over the selected period. All activity can be analyzed across a 30-day, 12-month, or 24-month period.
Customer Leads
Depending on your business or industry, a lead can look very different. For restaurants, mobile check-ins or directions/map views could be a strong indicator of a lead. Home service businesses, on the other hand, might be more interested in mobile calls, website clicks, messages, or Yelp bookmarks.
Audience Activity Feed
In addition to the actionable activity analytics such as views and leads, the Yelp activity dashboard also provides a time-stamped feed of actual customer interactions with your listing.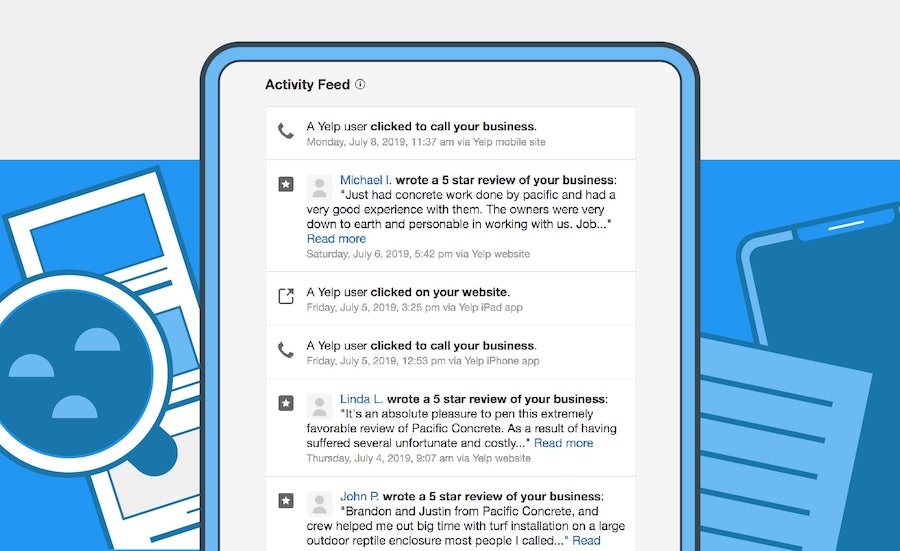 In this view, you will see when users made a call to your business, wrote a review, and even some important demographic data about your audience. Not to mention an overview of your listing's impressions on Yelp and device-specific information.
Ratings, Reviews, and Inbox
Communication with customers is a two-way street that must be consistently attended to, sometimes patched up, and always clean and maintained.
Ratings and reviews represent feedback from customers, both satisfied and dissatisfied. Your business' overall rating and the number of reviews is important for increasing visibility within the Yelp ecosystem.
Using the inbox feature to communicate with prospective, current, and previous customers is essential. Respond to negative (and positive) reviews and any other requests your stakeholders may have.
Review Badges
Review badges are embeddable displays of your business' standing with your customers.
When promoting your business—whether on your company's website, social media, or other third-party platforms—review badges can be powerful social proof of your core competency in the field.
Review badges are not static images and will update as your business receives new reviews. This is important because if you suddenly begin to accumulate more negative reviews, this social proof will work against you.
Inbox Communication
The inbox is your command central for client communication. Direct messages from customers are important to be on top of for many reasons.
First, prompt (and well written) replies are important factors in the customer's perceived experience. Second, your response rate and time are displayed publicly. That's right, potential customers will see how long it takes you to respond.
If it takes you two days to respond compared to your competitors clocking responses in every 10 minutes, it's going to be an easy choice for customers. Also, by the time you get around to replying, your competitors may have already won the business.
Yelp Advertising
If you search for a service on Yelp you may notice the subtle "Sponsored Results" or the even more subtle "All Results," almost halfway down the page.
The general public might assume Yelp ranks their results based on merit, such as rating or number of reviews, which is true, except that advertising takes priority. This means that paid placements above the organic search results are shown first, even if they aren't necessarily the best option.
When you search for something on Google, how often do you go to page two or beyond? This is why it's important to advertise on Yelp, no matter how small your budget. Boosting your presence among the top search results will increase your lead generation.
Creating a Campaign
Before you start running your Yelp ad campaign, you'll want to consider what action you want your customers to take. If you're a home service business, you may be most interested in quotes or phone inquiries and you would consider running deal promotions and coupons versus gift certificates.
There are four steps when you set out to create a Yelp ad campaign. The first step is to choose a photo for the ad (or let Yelp choose the best photo for you).
Next, you choose the text for your advertisement. This can come in the form of a customer review, which provides social proof, or you can write custom ad copy.
The basics of good marketing copy include:
Your value proposition or unique selling point
Experience and relevant information (awards, certifications, licenses, etc.)
Call to action
Note: The custom ad copy gets truncated after about 187 characters, so you'll want the most attention-grabbing and important information within the first 180 characters. Your text must be at least 15 characters long but not exceed 1500 characters.
Once the copy is perfected, you will select your desired budget. Yelp automatically suggests a typical budget based on your industry. The minimum ad spend is $5.00 per day. Yelp also provides a helpful estimate for how many clicks you can expect per month based on the daily ad budget.
You can also choose to further customize your ad campaign by purchasing features to boost your visibility and click-through rate. For example, the Upgrade Package can disable competitor ads from showing on your page and show specialization badges. Yelp reports these upgrades can increase leads by more than 15%.
Yelp ad budgets will only be used when a user clicks the ad. If you don't get enough clicks to satisfy your budget, you won't pay the full amount. Yelp estimates the cost-per-click (CPC) based on demand for your category and location.
Yelp measures ad clicks on a monthly accrual basis, which basically means the number of clicks and subsequent cost per click accrues over the month, instead of on a daily basis. Your ad could have a day without clicks and another day with enough clicks to exhaust your budget, but you will only be charged based on your monthly budget. You can, of course, stop your Yelp ad campaign at any time.
Historical Metrics
When analyzing your campaign's performance, Yelp provides a dashboard to review historical metrics. These metrics include clicks and impressions, compared across your desired date range and at different durations (daily, monthly, etc.).
You can also see campaign-related metrics such as the cost per click (CPC) and the total campaign spend.
Call to Action Button
One of the most important features of any business listing is the call to action. If you are a fine-dining restaurant, you may want guests to make a reservation. If you are a cosmetologist, you may want to enable the booking widget.
For $1 per day, a call-to-action button can be added to your listing page. Whether your goal is for potential customers to call, book, contact, or get a quote, this is a great way to incentivize activity.
Free vs. Paid Yelp Marketing Options
In addition to Yelp's standard search engine marketing capabilities your ad can also be shown on the business listings of competitors. If you do not want your competitors to have the ability to advertise on your listing, this can be removed, for a fee of course.
| Yelp Marketing Tool | Cost |
| --- | --- |
| Customer Communication Tools: respond to a review directly or publicly. | Free |
| Photos and Business Information | Free |
| Business Analytics Dashboard | Free |
| Yelp Advertising | $5+/day |
| Deals and Gift Certificates | 30% and 10% respectively |
| Yelp Reservations | $249/month |
| Business Highlights | $30/month |
| Remove Competitor Ads | $60/month |
| Call To Action | $30/month |
| Slideshow | $30/month |
| Enhanced Profile (Remove Competitor Ads, Call To Action, and Slideshow) | $90/month |
| License Verification | $30/month |
For $2 per day, you can remove competitive ads from being shown on your listing.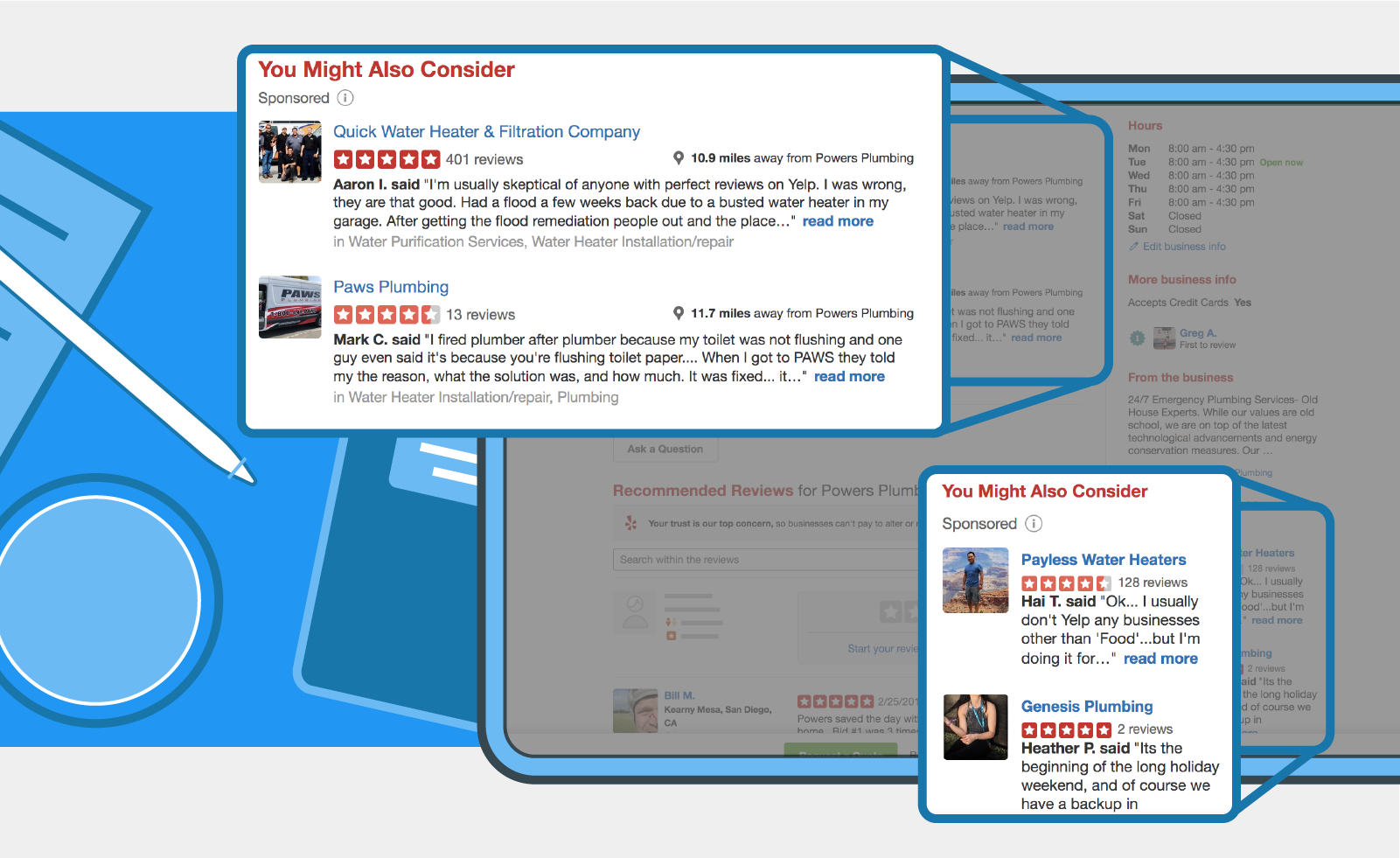 If your business requires a license, such as a construction company that must be licensed, insured, and bonded, you can add this verification to your profile. This is all for the price of, you guessed it, $1 per day.
Yelp also offers the enhanced profile bundle where you can remove competitor's ads, feature photos and videos on your profile, and include a call-to-action button for $3 per day.
Yelp and You
Implementing best practices for Yelp will not only allow you to provide a place for publicly sharing your dedication to customer service but also allow new customers to discover your business.
The entire field service industry has been built on the productivity of the tools you use everyday. In today's dynamic environment, more tools are being created to increase your productivity on the business management side of the field service industry.
Tools like Yelp and Housecall Pro can be used to increase your productivity with managing your business processes and customer service. Learn how Housecall Pro can improve your productivity when running your field service business and sign up for a free trial.
They say that when you're a hammer, every problem looks like a nail. Well, when you're a Housecall Pro, every lead looks like a sale.