7 Auto Reply Message Samples That Will Keep Your Business Looking Professional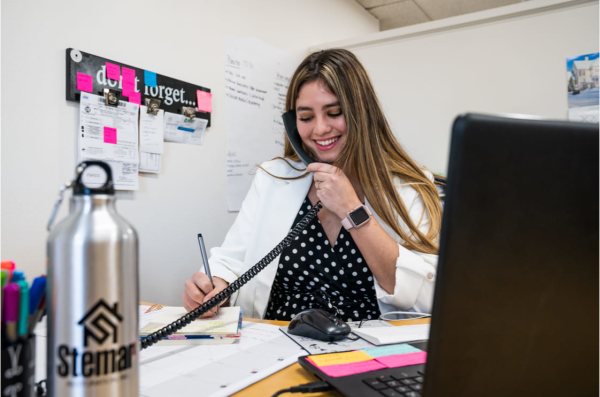 For any business, strong communication with customers is a pillar of good customer service. Maintaining a positive communication stream with your customer base is critical to success; if you don't provide timely responses, you risk losing customers to companies who reply faster. How do you get a leg up on your competitors? Auto replies.
It's estimated that by 2023, 85% of customer service interactions will be automated. This makes sense, considering that 57% of customers prefer to contact companies via email or social media rather than calling. People want convenience and efficiency, so businesses are taking advantage of digital communication channels.
All the tools you need to run your business, in one place
Housecall Pro makes it simple to run your business. Through our software you can dispatch techs, schedule appointments, create estimates and invoices, take payments, manage reviews and so much more – all on one platform.
Quick responses by email or text can easily give potential customers the information they need for scheduling appointments or services. You can then follow up with your lead as soon as possible rather than interrupting a current job while out in the field.
Keep reading for a full overview of auto replies including both sample email responses and text messages.
Why are auto replies important to your business?
Auto replies keep you connected to your customer. When you're out of the office or out in the field, it's helpful to provide an auto reply that's short, concise and provides a link for more information so customers have resources available when you've got your hands full. As a small business owner, you can't do everything at once, but an auto reply lets your customer know that you've received their inquiry and will be in touch shortly.
Auto reply key tenets:
Proofread: Make sure you're using correct grammar, spelling, and live links. Even text auto replies should use professional language.
Date: Use a date that can't be misinterpreted. For example: I will be back in office August 8th, thank you for your patience in the meantime.
Give a timeline: Make sure you inform the customer when you can reply or when you'll have access to email. It's been proven that customer wait time feels shorter when there's a set timeframe for waiting as opposed to waiting for an unknown amount of time.
Direct customers to support staff: Direct the person contacting you to the person who can help them.
Provide helpful links: Do most customers call or email you to schedule jobs? Set up an auto reply email with a link to your scheduling web page.
---
For home service businesses, learn how Housecall Pro can automate your daily operations. Housecall Pro now integrates with Callrail to help you track service calls and website forms. Learn more.
---
How to create a customized auto reply text message response
Has this scenario ever happened to you?
You're out in the field on a job, trying to problem-solve a complex repair issue. Your phone rings, it's an unknown number. Instead of answering the call, you let it go to voicemail so you can focus on the job at hand. You finish the repair an hour later and follow up with the customer. Unfortunately, she booked an appointment with your competitor instead because she couldn't get the information she needed from you fast enough.
If a situation like this has happened to you, don't let it happen again. Housecall Pro helps solve this problem by offering a Missed Call Reply feature, which automatically sends a customized SMS to calls you missed. Let's dive into how it works and how you can customize it based on your business.
Missed Call Reply: How it works
With Missed Call Reply by Housecall Pro, you can create custom text responses for your contacts or for unknown numbers. Not sure what to write from scratch? You can also choose from high conversion templates instead. Using either the custom text you create yourself or professional Housecall Pro templates, you can be sure no prospect is left in the dark—even if you can't personally reach out at the moment.
Text auto reply message samples for business:
For a customer who is in your contacts, a sample auto response text might look like this:
Hi [Customer's Name]! It's Mark. Right now, I'm finishing up a job but I will call you back very soon. In the meantime, feel free to book me online [Link]. Thank you!
For a caller who is unknown, an automatically generated text might look like this:
Hello, it's Mark from West Coast Window Washers. Sorry I missed you – I will get back to you ASAP but feel free to check out our website for booking and service info [Link]. Thank you!
Housecall Pro allows you to segment, filter, and generate custom guidelines for your contacts so that your customers and prospective customers get the relevant replies that match their needs.
Don't feel chained to your phone—especially if you're out in the field, focused on a job. The last thing you want is to be constantly interrupted by a stream of phone calls. At the same time, you don't want to lose out on leads because you're not able to answer your phone. The text auto reply feature means you don't have to be constantly tethered to your phone and you can get back to prospects on a timeline that works for you.
How to set up an auto response email
Another way to stay in contact with customers is to create an automatic email response. But before you get too deep into creating a pithy email message, make sure you've set yourself up for success.
First, you'll want to ensure you have a proper business email. For example, instead of window_washers98@gmail.com, invest in a professional email address like sales@windowwashers.com. This will lend your email and digital presence more authority and professionalism.
Thankfully, you won't need to worry about one of our email subject lines that work, as this is just a response, but you'll want to set up an email signature that includes your company logo, job title, and contact information. Once you have those two components, you're ready to start drafting an email auto reply.
Much like auto reply text messages, customer service automated responses through email help ensure that your leads get the information they need to make a decision—quickly and efficiently. If you set up auto reply messages in Outlook, you can direct customers to the right support staff or web page that will answer their queries.
Below, we've outlined some sample auto reply messages for managing customer service.
Automatic out-of-office emails
If you're out of office and a customer is trying to reach you, make sure your auto-generated email is professional and concise. Give the customer the precise date you'll be back in addition to the email address and other relevant contact information for your support staff.
Autoresponder subject line:
Out of Office Until September 8th
Auto-generated email format:
Hi there,
Sorry I missed you! I'm currently out of the office with limited access to email. If you have a question about billing, please contact our Billing Department at [Email]. If you'd like to a book a service, please schedule your appointment online at [Link] or contact [Support Staff Contact Information] for more information.
I will follow up once I'm back home, but in the meantime, the team will take great care of you in my absence!
Kind regards,
[Your Name]
#customersupport
Automatic customer support emails
Why would you need an automatic reply for customer support? Well, if customers have a general inquiry, want to book a service, or have another business-related request, they might submit a form available on your website. It's important to confirm the receipt of their request so that the customer feels heard and doesn't go elsewhere.
While it's easy to rely on canned responses for your automatic email, such as "Your #854723 support request was received," it doesn't sound very personal. It might just make them feel like a number among many—something you want to avoid if you're aiming for customer retention. However, creating a more personalized "thank you for your email" auto response that acknowledges their inquiry and outlines steps moving forward, will make them feel more appreciated. Here's an example of what you should do instead.
Autoresponder subject line:
Thank you for your recent inquiry at [Company Name Here], Here's what to expect next…
Auto-generated email format:
Hi,
Thank you for getting in touch. We're working on your request—hang tight! We will get back to you within 8 business hours (Monday – Friday 9 am to 6 pm EST).
Here are some important links that might direct you where you need to go:
Scheduling: [Web Page Address], [Phone Number]
Pay Your Invoice: [Web Page Address], [Phone Number]
Thanks again,
[Your Name]
Housecall Pro text and email features
Need some help with your email and text business messages for customers? Housecall Pro streamlines your communication with customers before, during, and after jobs. You have the option to send customers both text and email notifications so they can stay up-to-date on the progress of all jobs and projects.
Housecall Pro's small business tools allow you to send your customers timely texts and emails:
Job details: Time, date, and information regarding an upcoming job
Location data: Send "On My Way" texts to customers when a team member is dispatched to a job site with a time estimate
Finishing touches: Customers will automatically receive a text with the details about the job with online payment options
Need to follow up with customers? Housecall Pro helps you drive repeat business and referrals with automated emails after the job is done. You can keep your customers in the loop with a reminder email for an upcoming service and thank them for their business after.
Automate your business with Housecall Pro
Housecall Pro has modern solutions for your home service business. With our auto text replies and auto email response options, you can drive business, capture leads, and follow up with communication, providing the ultimate customer service from start to finish. Housecall Pro is ready here to help your small business every step of the way.
---
Do you use auto replies? How has it helped your business? Leave a message in the comments below.
---