Here's what's new! We've been hard at work making exciting improvements to the features you request the most: Personalized Dashboards, Card on File, and Payroll. Take a look below at the full list of product updates!
Enjoy new personalized dashboards
Our goal here is to do the work for you while giving you more options starting – with automatically adding an industry dashboard to your account. You'll also be able to pick and choose dashboards that make the most sense for your business.
Be on the lookout for new dashboard templates in your reporting tab early next week!
Keep customer's payment information on file for faster check out
Card on file, one of our most requested features, is LIVE and available for all Pros accepting payments with Housecall Pro. Speed up payment process for repeated jobs or collect payment info during booking calls to secure an appointment. We know you will get good use out of this one!
Send a request to your current customers by going to your customer profile and clicking the request button under Payment method. This will send an email to the customer with a request to save their card on file! Boom!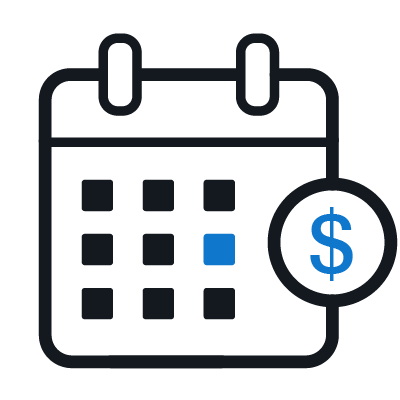 Never miss a pay run again
User-friendly, simple and accurate. If your current payroll system is anything but that, click the button below to solve it. Our integrated payroll solution allows you to run payroll in just a few clicks, saving time (and money) on managing multiple applications.
Don't let revenue fall through the cracks with expired Service Plans
With new updates to Service Plans, you'll be able to easily renew a customer's plan straight from their profile. It's simple! Plans can be renewed to a current plan template or updated to a new template.

Best of all, you'll even be able to use the card already on file. Jump into your Service Plan Dashboard to check on your expiring plans and keep revenue from falling through the cracks!
Offer Service Plans to generate recurring revenue, beat seasonal slow downs, and build loyal customers. They have become an industry standard, especially for HVAC businesses. Housecall Pro makes it easy to get started with our Service Plan Starter Kit.
A better calendar on mobile
Get ready – calendar preview is coming to the top screen of your mobile device! When scheduling jobs, estimates, or events, you'll see your currently scheduled items when picking a date and time for a new one.

This calendar update will let you know if start and end times collide with anything already on the books. Get the latest version in the app store and watch out for this new update releasing in waves throughout March!
Want to help improve invoicing and payments?
We're working on some new designs for invoicing and payments. Are you willing to hop on a quick Zoom call to share your feedback? We'd love to hear your thoughts!
White Board Wednesday updates
Hear from Pros like you! Join us for White Board Wednesdays. This week we are talking about Business Solutions: Payroll and Accounting. Join us today! Housecall PROs Facebook group.
Join our Alpha group
We've revamped our online booking tool to help you attract new customers and win more jobs. Our booking form matches services to technicians to optimize your calendar and prevents playing phone tag with customers. Join our test group to take it for a spin!
Have an HR question but don't want to hire a dedicated team? Tell us more!
Let us support your business with new HR Services tailored just for you. This includes a document library with compliant HR policies, custom-made employee handbooks, onboarding packets, and full support from dedicated HR experts.

Interested? Tell us what you think! The first five Pros to complete the survey will get a $20 Visa gift card!
My Money navigation has a new look
Use My Money to keep track of your payouts, order employee Expense Cards, set spending limits, and so much more! Access your payout settings at the bottom of the navigation list.