With all that competition out there, it's easy for your small business to feel a little outnumbered. Going up against the big guys and their deep pocket means coming up with creative ways to get your brand the recognition it deserves. Business promotional items are fantastic for getting your company seen by potential customers so you can gain more leads, close more deals, and drive more growth.
It'll cost you a bit to invest in your company's custom promotional items, but the upfront cost will be well worth the return—and we're hitting you with some stats that prove why. Take a look at these 40 unique promotional items for small businesses, broken up by category, then read on for the best advice on how to advertise your promotions.
The best business promotional items under $1
The main reason why business owners decide against company promotional items: the cost. Maybe your budget is caught up in your marketing campaign, or maybe you just don't think the return on investment is worth your time. But what if we told you there are tons of promo products under a dollar?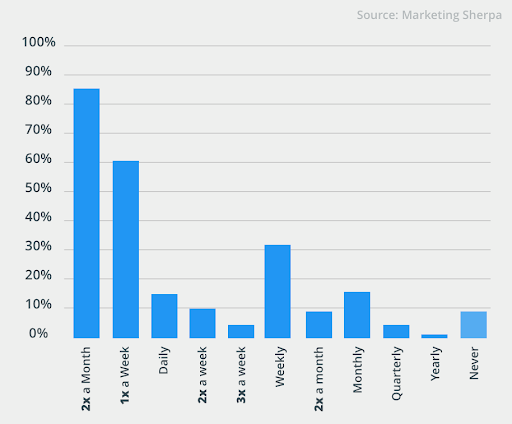 It's true that 86% of consumers would like to receive a promotional email at least once a month, but that approval rate sharply declines with more frequency. Monthly contact isn't enough communication to keep your brand alive in the customer's mind, but with these cheap promotional items lying around the house, your customer will receive daily little reminders—so the next time they need service, you'll be the first person they call.
1. Pen
Pens aren't the most unique promotional item, per se, but they're one of the most commonly branded products for good reason. You come across them all the time because they're cheap, useful, and effective. They may be small, but they're rather mighty when it comes to creating brand awareness. Added bonus: pens have a way of finding multiple owners throughout the course of their lifetime, meaning more eyes on your company's name.
2. Highlighter
The most effective promotional products are utilitarian, meaning they're things people will actually use every day. Just like a pen, a highlighter will see plenty of action. Use your branded highlighter to go over the details of a contract or work order, then hand it over to the customer afterward and let them know they can keep it! It'll seem spontaneous and your act of kindness will live on in your customer's mind.
3. Sticky pad
You want your company to be remembered—why not place your company logo on the place where people jot down their reminders? From grocery lists to to-do tasks, anytime your customer needs to remember something, your business will be there. Seeing your logo might even remind them that it's time to schedule an overdue maintenance service!
4. Notebook
Anything parents can use to save money on their kids' school supplies will be considered a win. Branded notebooks and notepads make great paperweights at all your trade shows, and they're the perfect promo object to give your business a polished, professional appearance.
5. Bookmark
If you're wondering whether people still read, the answer is yes. But even if they don't, share a branded bookmark when you're going over the user manual to their new HVAC system. You can even bookmark the page that discusses cleaning and maintenance so they can easily access the information and know exactly who to call for help.
6. Keychain flashlight
These are one of those business promotional items customers won't know they need—until they wish they had it! Add a little light to your promotional campaign with these handy, functional items. The next time your customer is stranded on the side of the road, it might just be your keychain flashlight that saves the day!
7. Bottle opener
Branded bottle openers are very budget-friendly and also make for great keychain additions. Once your customer experiences the new A/C you just finished installing, they can sit back, use their bottle opener to crack open a cold beer, and enjoy their comfortable living space.
8. Calendar magnet
Homeowners spend a ton of time in the kitchen. If you make a company promotional item in the form of a calendar magnet they can attach to the fridge, it'll do more than just keep track of dates; it'll give them a subtle reminder about that exhaust fan you recently repaired. You can even circle the dates on the calendar for proposed maintenance scheduling!
9. Koozies
Why have koozies remained one of the best promotional products since the 1980s? Because they're awesome. Everyone loves a nice, refreshing beverage—and considering how you're in the business of keeping homes cool, it's only fitting that you keep drinks cold, too!
Popular promotional items for small businesses
These business promotional items cost more than a dollar, but they're still pretty cheap in terms of customer acquisition. Did you know that attracting a new customer is six to seven times more expensive than retaining one?
Add popular promo products into your budget, pay a little more now, and save on costs in the future. The reason these items are so popular is that they're some of the most effective promotional products you can use to drive growth and increase profits.
10. Plastic cup or water bottle
Although not necessarily the most unique promotional item, drinkware is universally well-received. There's always a shortage of plastic cups at home, and if you go one step further by making branded water bottles, your company might catch the attention of potential customers when it's being used on-the-go.
11. Insulated thermos
If you want to appear impressively professional, take it up a notch with an insulated thermos. Just like your trade profession, these guys regulate temperature and do wonders for keeping hot drinks hot and cold drinks cold.
12. Apparel
If free advertisement sounds like music to your ears, it's time to make some branded hats, beanies, shirts, and sweatshirts. Company apparel is one of the best promotional ideas for small business; these walking billboards spread awareness as fast as word of mouth, except in this case, the "mouth" is a physical object.
13. Gloves
Don't stop there though! Add gardening gloves or insulated gloves to your spread of promotional apparel. Your customer will definitely appreciate them the next time they go to work in their landscaped yard or renovated attic.
14. Lip balm
Somehow lip balm always manages to disappear in one way or another, so people will be excited to receive replacements! They'll keep their plastic tube with them in their pocket, meaning your company will stay with them in stride.
15. Custom clock
Do your customers necessarily need a clock? Maybe not. Will they appreciate having one? Definitely. These custom clocks go well in bathrooms, garages, and patios—all areas where your company might provide service! Seeing exactly how long it took for the shower to slowly drain might just be the motivation they needed to call a plumber.
Promotional items for trade businesses
If you're looking for the most unique promotional items, you've made it to the right spot. Pens and water bottles might be a dime a dozen, but these creative promo items are directly related to your small business trade. A touch of humor will be sure to leave a lasting impression in the minds of your customers, giving them something to write home (or write to Yelp) about.
An impressive 90% of customers are influenced by online reviews. If someone happens to search your business, you want them to see glowing customer feedback—and these unique promotional items may be just the ticket to that 5-star rating.
16. First aid kit
Safety first! Maybe their home needed some bandaging or maybe you just want to show your customers that you care about their well-being. Either way, a first aid kit will make your company stand apart from other less-personal businesses.
17. Multi-tool
A jack of all trades from the Jack, himself! A branded multi-tool might be the most effective promotional item to date. These nifty, pocket-sized giveaways have a million and one uses and, guess what? If they can't figure out how to complete their task at hand, you'll be the contractor they ask for help.
18. Tool kit
To really dazzle customers, go bigger with a company tool kit! You'll find plenty of mini tool kits to stay within your budget, or go all out and place a custom wrench, screwdriver, and leveler all in your full-sized kit.
19. Measuring tape
As the saying goes: measure twice, cut once. Measuring tape will come in clutch when your customers want to get it right the first time. If the project is too large in size (pun intended), your company will be right in the palm of their hand.
20. Outlet cover
Perfect for electricians, a custom outlet cover is a creative promotional item that promotes both safety and your company at the same time!
21. Watering can
Branded watering cans are unique promo items for landscapers who want to stay fresh in their customers' minds. Every time the go tend to their new flower garden and see your company logo, they'll appreciate the beautiful work you've done in their yard.
22. Air freshener
You produce cold air; what if you produced air that was cold and smells good? Cue company air fresheners! Customers will love how much more enjoyable their living space is thanks to your service.
23. Stress ball
Big construction jobs might have your homeowner feeling slightly stressed out. After a few squeezes on one of these promo items, they'll feel much less tense—something the two of you will both look forward to!
24.Earbuds
Job sites get a little loud. When you start hammering at walls or sawing away metal, your customer will be grateful for your company's earbuds that drown out the noise.
25. Candle
Say you've recently finished a massive bathroom remodel complete with granite countertops, ambient lighting, and a huge porcelain tub. An aromatic candle with your company logo should be your last finishing touch!
26. Piggy bank
When you complete energy efficient upgrades, a piggy bank will make for a unique promotional item. Every time they contribute a few cents, they'll think about all the money they're actually saving day-to-day on their energy bill.
27. Phone stand
Remember, the goal is to make promo items that will be used frequently. Phone stands are one of the hottest promotional products right now because they allow for hands-free entertainment across different devices—plus they come in super fun shapes!
28. Plant kit
Calling all landscapers! There's no better way to promote your company than with a customizable plant growing kit, complete with your business name and branding message.
29. Hot/cold packs
Delivering hot and cold air is what you do! Represent your trade with a fitting hot/cold pack that can soothe sore muscles, aches, and pains. This unique promo item is sure to leave an impression.
30. Clip holders
Everyone could use a little organization in their life. With these cleverly-shaped clip holders, the office can now have everything and the kitchen sink! When cleanliness starts going down the drain, your company's item will be there to assist with the chaos.
Promotional giveaway items for HVAC businesses
Have a great referral program? Need to generate new leads? Think about investing in a big-ticket promo item that can lure customers in Two-thirds of people are willing to share their information with companies, but only in exchange for some perceived value. Maybe that value could be a drawing entry to win one of these awesome promos!
31. Weather thermometer
These thermometers are still pretty low budget, plus they're rust-proof and weather-proof. Customers can stick them outside to easily check the outdoor temperature without using their phones.
32. Handheld fans
Essential for those hot summer days, a handheld fan will provide much-needed relief. Customers will enjoy saving money on their utilities thanks to their handheld A/C.
33. Temperature gun
These aren't just for HVAC techs; customers can use a temperature gun for everything between monitoring their refrigerator's efficiency to checking if their steak is done!
34. Thermostat
Make someone smile ear to ear when you tell them they're the winner of your business promotional item! Cutting-edge thermostats make it easier to control temperature zones, set schedules, and save energy.
35. Air conditioner
It's unlikely that you have room within your small business budget to give out complete HVAC units left and right, but it might be possible to afford a small air conditioning system. Consider offering this as a price to the customer who brings in the most referrals all summer.
36. Space heater
Running the heat can get expensive, so localized space heaters are great company promotional items during the colder months. Many of these models are budget-friendly, so you might be able to give away a few.
37. Dehumidifier
There's arguably nothing worse than feeling wet and sticky in your own home. Contractors working in especially humid areas should think about offering this unique promotional item that your customers will fight over.
38. Security camera
Construction sites are vulnerable and prone to theft. A security camera gives homeowners better peace of mind while they're away and if your unique promo item ever helps solve a future crime, your company will be the hero of the story.
39. WiFi-enabled lights
Electricians who are looking for business promotional items should consider WiFi-enabled light bulbs. These sync up to the internet and can be controlled by voice or by phone, whether or not the user is at home.
40. Virtual assistant
Last but not least, considering making a virtual assistant the grand finale of promotional prizes. These devices can connect all smart home features in one hub, allowing homeowners to sync their lights, security, A/C, surround sound, and more.
Where to advertise promotions
Business promotional items are easy to pass out on the job site, but what about promotional contests or sails? In order to get the most success out of your campaign, make sure to advertise in all the right spots
Email
Like we mentioned earlier, occasional emails are fine but you don't want to inundate anybody's inbox with too many messages. Use your email opportunity to share your sale and inform your customers about your company promotional items.
Website
With a strong SEO strategy, your small business could appear on the Google search results page. A flashy banner at the top on your website advertising your promo items could make the difference between converting traffic and losing them to the company a few clicks above.
Blog
Hopefully, your website includes a blog where you take advantage of content marketing (if you don't already have one, now's the time to start!). Write an editorial blog post about the unique promotional item you're offering such as, "The Top 10 Reasons Why Frigidaire is Best". At the end of the post, include instructions for how your customer can win one of their own!
Social media
Love it or hate it, social media marketing is incredibly effective when it comes to connecting with your customers and advertising your business promotional items. In fact, 72% of consumers want brands to share discounts and sales on social media. Get the hype going with an exciting promo post that lets people know about your promo, or simply share a photo of your team members wearing their branded company clothing.
Coupon directory
Running a seasonal sale? Bargain-hunters love turning to sites like RetailMeNot to discover awesome savings on products and services they're searching for. Be sure to list your discount in coupon directories in order to gain more qualified leads.
In-store
If your small business has a storefront, don't forget to advertise your company promotional items in-house! A good, old flyer might be the trick to receive more online reviews if your customer learns that it could be well worth their time.
Vehicle
A digital marketing strategy is important, but you can also market when you're on the road! Use your vehicle to advertise the benefits of working with your business, whether it be a special offer, your types of services, or that you offer financing. Housecall Pro's trusted partner Wisetack offers an integrated financing solution and even provides free marketing assets like a vehicle decal.
Small business management with Housecall Pro
Equipped with the hottest promotional items and a careful advertising strategy, you'll start booking jobs left and right. Stay on top of all your new customers using Housecall Pro software for small business owners. We help you manage every facet of your business—from online booking to easy job scheduling, dispatch updates, and customer communication—so you can worry less over fine details, and focus more on driving your business growth.
Improve your sales funnels with this ebook for home services businesses
Sales funnels are different methods of marketing to reach your next customer. Whether you're new business owner, or if you've been in the home services industry for years, it can be difficult to keep up with all the different types of paths customers could take to find your business. This is why we designed our Sales funnels for home services companies ebook to cover the four stages most homeowners go through when looking for your home service business. Plus, we include a follow-up checklist so you can use this information right away.