Just how critical is an online booking system for your home service company?
If you expect your business to grow, not only is an online booking system useful, it's necessary. These are the best booking software platforms currently available.
For a home service business, your key to growth lies in your ability to capture (and keep) as many clients as possible. A critical factor in achieving these goals is offering convenient ways for those customers to engage your business.
Why Online Booking
More consumers are actively using their smartphones to complete everyday tasks. And even with smartphone use on the rise, online booking isn't just about people on the go.
It's also about convenience and providing consumers with the ability to schedule home services, regardless of where they are or what they're doing.
At work while using a desktop computer? A client can book an appointment.
On vacation while using a tablet on the beach? A client can leave a positive review.
And, of course, anywhere with a smartphone? A client can pay a recent invoice.
Benefits of Online Booking
The real benefits come from what online booking software can do for your business. Here are a few major advantages your home service company gains from online booking software.
24/7 Hassle-Free Booking
Just because your business closes up shop each day doesn't mean current and future customers stop needing your services. Research shows 40% of online bookings occur after a business's regular office hours. Not only that, but roughly one-third of consumers looking for a service provider are more apt to choose one with online scheduling capabilities.
Stronger Google (and Social Media) Presence
To ensure consistent growth for your business, increasing exposure on Google is a must, specifically with local or "near me" searches. Many scheduling providers recognize this as well, connecting their software with Google's most popular tools.
Clients can search Google or Google Maps to find your business and book directly from the results page or your Google My Business listing. All of which is critical for increasing your local searches.
Online booking platforms also make your marketing and advertising more dynamic. If you advertise on social media sites like Facebook or Instagram, you can tie your appointment platform directly to those ads, increasing the likelihood of a booking conversion.
Better Time Management for Your Team
The best platforms for appointment setting extend beyond self-service for customers. Robust software options also integrate oversight into your service teams' schedules to better manage their time.
Schedule automation gets your staff off the phone and reduces the likelihood of human error. A team free from fielding calls is one that can focus on providing superb services.
Reduction in Cancelled or Missed Appointments
In the dark ages of home service booking, you trusted a client would remember their appointment. You also didn't possess a consistent method to confirm that appointment. Inevitably, your field teams accumulated a fair number of missed or canceled service calls.
However, online booking systems automate the entire process, adding the appointment to clients' calendars and sending them reminders and confirmations through text or email. A study of SMS reminders showed how effective they were in reducing skipped appointments in the health care business. A similar approach can work for your company.
Improved Customer Retention
One of the key points to keeping your clients is to make it simple for them to do business with you. The smoother the engagement process—booking an appointment, paying an invoice, leaving a review—the apter they are to return to your service again.
Boost in Customer Acquisition
Word of mouth matters in getting new customers. The home service industry relies heavily on referrals. Offering online booking is an effective way to drive new business. You'll increase your reputation as a company that cares about its clients.
Consumers often seek out simple and friendly solutions.
What to Look for in Online Scheduling Software
Software for online bookings is increasingly dynamic. More than just a means to log appointments and manage your team schedules, some of the more popular solutions offer the following features.
Real-time, Online Scheduling
Real-time booking is the linchpin of modern scheduling. It ensures an instant appointment based on availability. More advanced platforms include wait-list capabilities with automation that fills schedule blocks when appointments are canceled or rescheduled.
Calendar Oversight (for Clients and Employees)
Manage and sync calendars in real-time, including many third-party applications, such as Google Calendar and iCal. For clients, this feature means their appointment time is sharable and will sync across numerous devices. For your business, you can track an employee's time and workload through their calendars in real-time.
Customer Options
Does your home service cater to a customer's individual preferences? If so, target a software provider that gives clients calendar access to book their preferred technicians based on availability.
Automated Reminders
After setting an appointment, customers receive an automatic text or email notification reminding them of an upcoming appointment. Taking that a step further, some platforms allow you to notify a client when the tech is on their way.
Promotions, Payments, Reviews, and More
Multifaceted platforms let you do more than support online booking. Many platforms include marketing functionality, solutions for invoicing and payment, methods for capturing reviews, and features for managing more challenging clients. Some products are even full suite management tools with bookkeeping integrations and inventory tracking.
Best Online Booking Software
When the time comes to add online booking capabilities to your business, you'll want to consider a handful of potential providers before making a final decision. There is no single one-size-fits-all solution as different software providers bring different strengths to the home service industry.
For instance, is your cleaning business a small, family-run operation that is merely looking to add customer-friendly automation? You might want a straightforward solution that focuses on booking and scheduling.
Or is your midsize window replacement firm needing an enterprise-level solution to accommodate rapid growth? A full-suite online booking platform will help bring dynamic functionality to meet your brand demands.
When selecting your online booking capabilities, consider current and future goals and choose a software provider that can meet both types of goals. In the home service business, the following list represents nine of the best online scheduling software platforms.
Housecall Pro certainly comes close to meeting all the needs of your home service business. HouseCall Pro's management app is designed specifically with home services in mind—everything from cleaning and plumbing to electrical and HVAC to renovation and repair.
Customizable for any size business, the cloud-based software provides online booking with real-time scheduling for both customers and your team. It also has client messaging and notifications.
Want something even more robust? The platform accommodates field service invoicing and payments, estimates, an internal company chat function, and assistance with marketing automation. You may not require the full suite of products immediately, but Housecall Pro provides you peace of mind knowing the functionality is ready when you are.
Pricing includes three tiers based on the number of users & features — $49/month, $109/month, or a MAX plan with advanced features for bigger companies.
Moving away from platforms designed solely with home services in mind, you'll find more simple solutions that mainly center around online booking. SimplyBook.me is one of those software providers.
Key features include booking functionality that integrates with Facebook, email and SMS confirmations and reminders, the posting of client reviews, and the acceptance of payments through popular processors like Stripe and PayPal.
SimplyBook.me focuses on marketing and promotion to grow your brand. Promotional features include rewards and referrals, coupons and gift cards, Instagram photo sharing, and the opportunity to sell products or promote service add-ons.
Pricing includes a free plan for up to 50 bookings plus one custom feature; $9.90 per month for 100 bookings plus three custom features; $29.90 per month for 500 bookings plus eight features; and $59.90 per month for 2000 bookings and unlimited custom features. If you pay annually, you will also receive two months free.
Offering broad appeal for both large and small businesses, 10to8 maintains a simple, productive approach to online scheduling for your clients and the communication between your team members.
10to8's software lets you dictate how your booking should function, including manual approval. The platform integrates with PayPal and Facebook and website builders Weebly and WordPress. The service also includes a neat feature to identify appointments that may be at risk of no-showing or canceling.
Pricing is as straightforward as the service. There is a free option with 100 appointments per month, but the ability to brand starts with the $9.60 monthly plan that includes 100 appointments. You'll pay $20 per month for 300 appointments and $40 per month for 600 appointments. There is also an enterprise option for more than 600 bookings.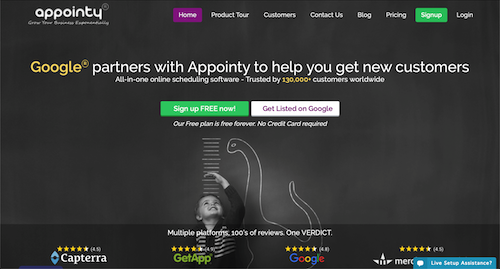 Appointy may not specifically identify itself as a home service appointment solution, but its flexibility allows any business to use it. It's good for companies relying heavily on appointment setting and repeat business, like landscaping, cleaning, pest control, pool maintenance, auto detailing, or pet sitting.
Simplicity is Appointy's major selling point. Along with online appointments, the service includes client notifications and social media and Google calendar integrations. Don't have a website? No problem. Appointy has a sub-domain option where you can create a booking page for your business.
There are four service tiers, including a free option with a cap of 100 monthly appointments. Unlimited booking starts at $19.99 per month, and increased services are available at tier 3 for $49.99 per month and tier 4 for $79.99 per month.
The definition of customizable, SuperSaaS accommodates for home service booking needs. Of course, this platform includes the essentials, like real-time booking, automated SMS and email reminders, integration with Facebook, and the ability to accept customer payments. There is even a solution for equipment rental services.
SuperSaaS provides a high comfort level for its users. Everything from your schedule, booking, and registration are customizable to fit your branding. Plus, you can control your sync settings.
Much like the service, pricing is incredibly flexible, with 11 different packages. There is a basic free version with a cap of 50 appointments. The paid tier starts at $8 per month for 100 appointments and increases to $186 per month for 15,000 bookings.
BookedIn is a straightforward, yet feature-rich product. It certainly helps that you have 30 days to test out the software before making a commitment.
Your customers can set appointments from your website (including all major platforms), a promotional email, or social media channels like Facebook and Instagram. Capture as much or as little client data as necessary with custom onboarding forms branded specifically to your business.
Apart from the free option, plan pricing is $24, $39, $54, or $69 per month based on the number of calendars that require management.
If the name sounds familiar, Square Appointments is the online booking tool of the payment processing giant Square. The same innovation that users love with the payments goes into their scheduling software, which features a free booking website, automated reminders, and, of course, payment integration.
Square Appointments also emphasizes robust prepayment and cancellation fee options to help you guard against no-shows. Pricing is as simple as the solution itself with a free option for single users, a $50 per month tier for 2 to 5 users, and $90 for 6 to 10 users. If you need more users, you can contact their sales team for an enterprise-level package.
BookSteam is another service that can cater to a number of different business types and needs. The core product includes online appointment setting, SMS and email notifications, and online payment with the ability to keep credit cards on file.
BookSteam's feature set goes well beyond basic scheduling to include client database and review management, marketing and promotional tools, inventory tracking, and client accounts.
BookSteam does not offer a free option but has a 14-day free trial. Pricing is based on users and runs from $19.95 for one user, $29.95 for 2 to 5 users, $39.95 for 6 to 10 users, and $69.95 per month for 11 to 50 users.
We close out our list with the cloud-based Genbook platform, which targets midsize firms looking to better organize their approach to online booking.
Specifically designed to track both customer appointments and the techs that fulfill them, Genbook manages the booking lifecycle from first booking to final payment. The software even allows you to accept payments online or at a stand-alone store—great for pool service or home design and furnishing companies.
Genbook offers a 30-day free trial, and pricing starts at $29 a month for a single staff member. Plans increase to $59 per month for 2 to 5 members and $99 for 6 to 12 users. If you need more than 12 users, they will build a custom plan for your business.