When you're growing an HVAC business, you need to spend the majority of your time working on the business, not in it. That means you need employees, and that means payroll.
While using an HVAC software solution is a great way to reduce the time needed to process payroll, hiring is increasingly competitive, and because of that, business owners and managers need every advantage they can get. Understanding the HVAC job openings landscape can be that advantage. 
And it just so happens that we've gathered and analyzed more than 60,000 HVAC job postings in the United States for the entire year of 2019. If you're looking for data-backed insights to help guide your HVAC hiring process, you've come to the right place!
Let's dig in.
Note—All data is from Indeed.com, and includes jobs that support the HVAC in administrative and support functions.
Available HVAC jobs in ever state
Where are all the HVAC jobs? We pulled every available job posting and segmented at the state level. Here's what we found: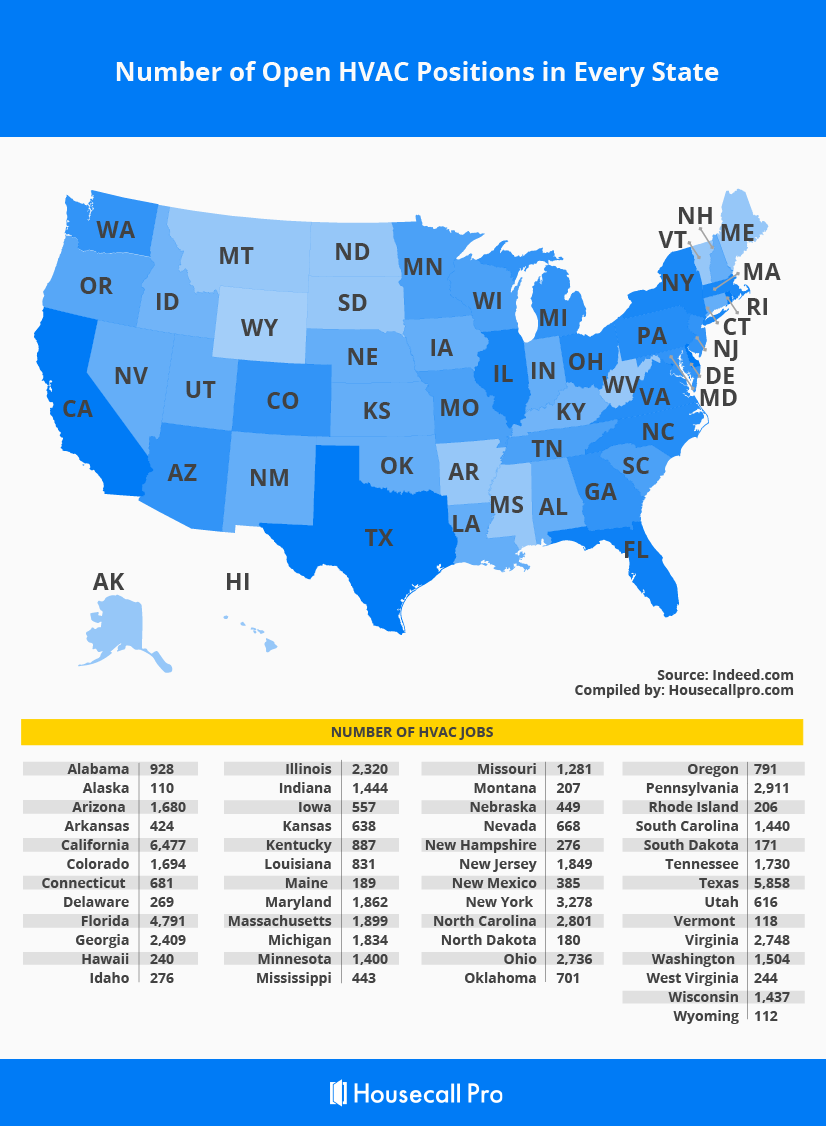 The map above represents a total of 68,980 HVAC jobs available nationwide at the time of writing. Generally, the volume of available HVAC job openings follows state population patterns.
For example, California has the most HVAC jobs posted with 6,477. In fact, the top five states for the number of HVAC job postings directly correlate with the state's population in exact order—California, Texas, Florida, New York, and Pennsylvania.
Similarly, the bottom five states in terms of HVAC job openings follow the same pattern, although not in exact order—Alaska, Wyoming, Vermont, South Dakota, and North Dakota. Alaska has the fewest HVAC jobs posted with 110.
Looking deeper into the data, we see a few interesting insights:
There are 23 states with more than 1,000 HVAC jobs available
There are 10 states with more than 2,000 HVAC jobs available
The mean amount of jobs available per state is 1,380
And even a couple outliers:
North Carolina is sixth in the number of HVAC jobs available but ninth in state population
Maryland is twelfth in number of HVAC jobs available but nineteenth in state population
Now that we have a sense of the HVAC hiring scene at a high level, let's use the data to see what types of HVAC jobs are available.
HVAC jobs by seniority
OK, so there are plenty of HVAC jobs available—thousands in many of the bigger states.
One of the keys to running a successful HVAC business is to have the right person for the job. Maybe your biggest bottleneck is around installation and you could put some entry-level technicians to work right away. Or perhaps you're leaving some money on the table by not having a senior service specialist around for the more complicated commercial jobs who already knows his/her way around HVAC software.
Either way, here's how the rest of the country stacks up in terms of HVAC jobs available by entry, mid, and senior-level job postings.
Here is the volume of HVAC jobs broken down by seniority level and state:
As you can see, the number of entry-level jobs directly follows the total number of HVAC jobs available in most states. If you look closely, however, there are a few interesting data points.
Entry-level HVAC jobs
On average, entry-level jobs make up 55.4% of the total of jobs available
Maine has the highest percentage of entry-level jobs available at 69.8% of the total jobs available
Massachusetts has the lowest percentage of entry-level jobs available at 44.5% of the total jobs available
Mid-level HVAC jobs
On average, mid-level jobs make up 31.9% of the total of jobs available
California has the highest percentage of mid-level jobs available at 37.6% of the total jobs available
Wyoming has the lowest percentage of mid-level jobs available at 23.3% of the total jobs available
Senior-level HVAC jobs
On average, senior-level jobs only make up 2.1% the total of jobs available
Each of North Dakota, South Dakota, and Montana only have one senior-level job listed
Massachusetts has the highest percentage of senior-level jobs available at 5.2% of the total jobs available
Montana has the lowest percentage of senior-level jobs available at .5% of the total jobs available
What is your state's biggest need in terms of seniority?
If you're looking to hire for a specific type of talent, make sure that your job description reflects that. Learn how to write the perfect HVAC job description in our recent post.
Average salaries for current HVAC jobs openings
Salary is a large component of HVAC hiring and employee retention. Business owners and managers need to carefully study their own numbers, as well as their competitors and the larger HVAC landscape, to offer competitive compensation.
As we referenced in an earlier post, the national average salary for current HVAC job openings is $24.57 per hour.
Here's the full list of average salaries for HVAC job listings in 2019 and how they compare with the national average for all HVAC listings.
Average salary is 79% of the national average
Only 108 jobs paying $55,000/year or more
Regardless if you're located in one of the most or least competitive HVAC hiring scenes, there is power in knowing how your company stacks up against the state and national averages. We hope this helps you better understand the HVAC tech salary landscape!
Make the right hire
Ready to use this data to hire some HVAC technicians and support personnel to grow your business? Check out our recent publication, The Ultimate Guide to Hiring HVAC Technicians, to learn how to find, vet, and hire the right people for your HVAC business.
How to hire great leaders for your field service business
Control. It's probably why you started your own business in the first place. You wanted control over your time and your earnings. Control the way things get done. But as your business grows, you realize you can't do everything yourself. So if you want a business that's yours, but also one which can grow into something great – you need to hire great leaders. Download our ebook, Hanging up your boots and hiring leadership, to learn how to move away from being the boots on the ground and become the visionary that scales a truly great company.