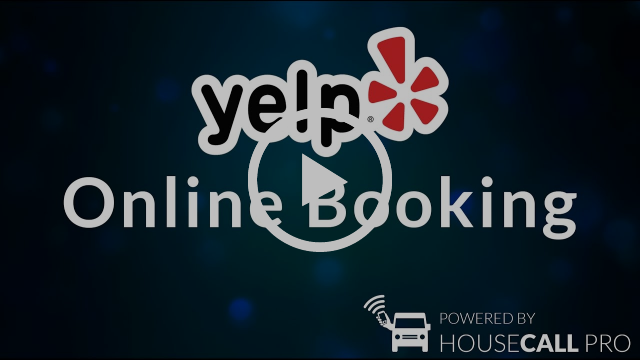 We are thrilled to announce our brand new Yelp Online Booking feature. Once enabled, this incredible feature will give you the ability to be booked directly from your Yelp page for a 10% referral fee.
Yelp is the leader for business discovery as well as overall lead generation. 78% of all people who use review sites rely on Yelp when searching for local service businesses. 82% of people who go on Yelp intend to buy. Customers want to book you online, so let them!
The video below will show you everything you need to do to get Yelp Online Booking set up.
Once this is done, all future Yelp customers have to do is go to your Yelp Business Page, enter their address, select the desired service from your pre-set HouseCall Pro price list, select a time slot from your real-time updated job calendar, and book the service appointment with 1 click! All job details will push into your HouseCall Pro account in real-time. This feature will put you ahead of your competition by converting Yelp window shoppers to actual customers, directly from your Yelp page!